Financial Center First CU Receives Prestigious Juntos Avanzamos Designation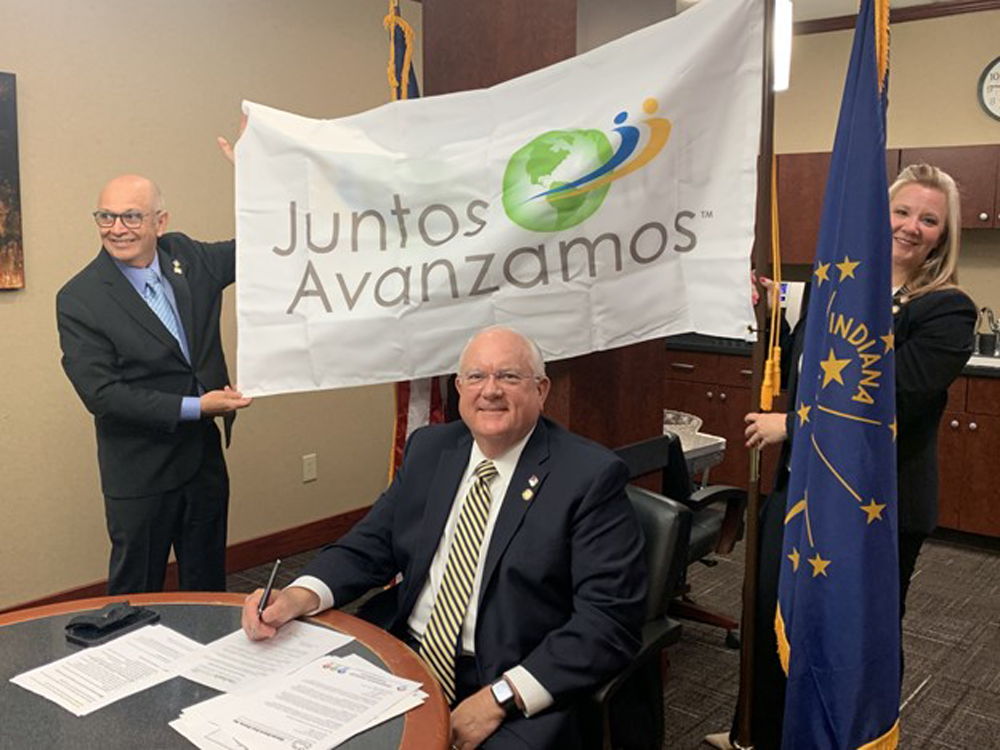 Financial Center First Credit Union has received "Juntos Avanzamos" - a nationwide designation for credit unions committed to serving and empowering Hispanic and immigrant consumers.
This designation comes as a result of over a decade's worth of efforts from Financial Center, with focuses on helping families and communities thrive by providing affordable, transparent and responsible services, and financial education.
"We welcome Financial Center FCU to the growing Juntos Avanzamos credit union network. This is a recognition of the pioneering work that over the last couple of decades, Financial Center has done to serve the Hispanic community in Indianapolis, work that started with the formalization of one of the first partnerships in the country between a Mexican consulate office and a financial institution and that resulted on the opening of a fully bilingual micro branch next door to the consular office," states Pablo DeFilippi, SVP of Membership and Network Engagement for Inclusiv. "This is a model that has been replicated all over the country and may have inspired the Financial Empowerment Window that is now available through the Mexican consulate network across the nation. Congratulations to the Financial Center team for their vision and commitment to financial inclusion for Latinos."
Hispanic and immigrant communities represent a vital component to the prosperity of local and national market economies. Yet in Indianapolis, minority populations remain largely underbanked and vulnerable to predatory financial services. Financial Center has recognized this need and provides substantial outreach and support through its partnership with the Consul de Mexico, as well as through the credit union's international advisory council.
"Financial Center supports the United States Military, we feed the hungry and we teach financial literacy. Our main focus, and what truly defines us is teaching financial literacy which has been defined as our organizational niche - it is at the very heart of all things Financial Center" states J. Kevin Ryan, Chief Executive Officer of Financial Center. "Today more than ever, there are many Latino people across our nation in desperate need of financial literacy education. Serving the Latino community has never been more important than it is today, and we are proud to stand with Inclusiv and represent the Juntos Avanzamos program."
The designation ceremony was held virtually on April 20. Dignitaries that attended the ceremony and/or provided letters and proclamations of recognition included:
Congressman Andre Carson
Governor Eric Holcomb
Mexican Consulate: Luis Franco
Indiana's 30th District Senator, Fady Qaddoura
Indiana's 29th District Senator, JD Ford
Mayor of Indianapolis, Joe Hogsett
Mayor of Lawrence, Steve Collier
Indiana Latino Expo: Maria Luisa Tishner
John McKenzie, President of the Indiana Credit Union League
About Financial Center
Financial Center First Credit Union is an $801 million credit union whose mission is to improve the financial lives of its members who live or work in Indianapolis, Kokomo, Muncie, and their surrounding counties. Over 80,000 members at Financial Center and its Muncie-based division, Ball State Financial, take advantage of competitive rates and low fees by banking with the Central Indiana-based credit union. Financial Center is proud to empower the community by supporting military veterans, feeding the hungry, and bringing award-winning free financial education to all. Learn more at www.fcfcu.com
About Juntos Avanzamos
Juntos Avanzamos ("Together We Advance") is a designation for credit unions committed to serving and empowering Hispanic and immigrant consumers – helping them navigate the U.S. financial system and providing safe, affordable and relevant financial services. Juntos Avanzamos credit unions employ bilingual, culturally competent staff and leadership, accept alternative forms of ID and treat all of their members with respect, regardless of immigration status. Inclusiv is leading the national expansion of Juntos Avanzamos and the network is growing quickly; it currently includes 112 credit unions in 27 states, Puerto Rico and the District of Columbia.
Photo
J. Kevin Ryan signs Juntos Avanzamos Designation. LTR: Marco Dominguez, AVP of Community Outreach at Financial Center; J. Kevin Ryan, Chief Executive Officer at Financial Center; Dusty Simmons, Vice President of Membership Development at Financial Center.