Democracy is For and By the People, Not Buildings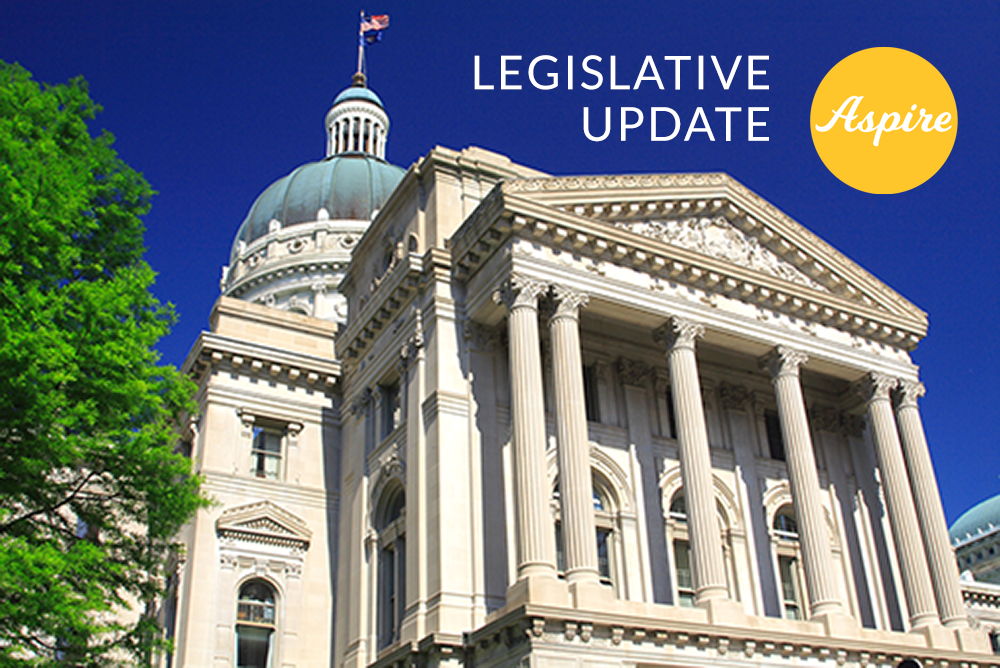 The 2021 legislative session kicked off in spaces and places not like the past. The House Chamber has moved to the Government Center building to allow for social distancing measures, and the Senate moved nearly half of its members up to the gallery to do the same. Committees are meeting, but those who testify are doing so via zoom in a separate room AT the Capitol, usually 2-3 floors away from the committee members. Until at least MLK Jr. Day, the House plans to go into session only on Thursdays. The Senate plans to follow its usual schedule of meetings on Mondays, Tuesdays, and Thursdays. Committees will follow their usual pattern, but the House plans to limit committees to two hours.
A lot has changed for this session. So, what has not? Bills are getting introduced, committees are meeting, and the Hoosier democratic process is moving forward, emphasizing democracy is of, for, and by the people, not the buildings.
Here are updates on top issues from last week.
Employer Liability Protection Bill Moves Forward
The Senate's employer liability bill, SB1 (authored by Senator Messmer, R-Jasper, the Senate Majority Floor Leader), was heard in the Senate Judiciary Committee. Aspire Johnson County joined nine other chambers of commerce on a letter of support for the bill. The Indy Chamber testified in person on behalf of all the sign-on chambers. The bill was held for amendment (likely to include product liability protection) and vote, which we anticipate will take place this week. The bill provides civil liability protection for employers regarding COVID-19 if the employer has taken proper safety precautions. There is a similar bill in the House, HB 1002, authored by Representative Torr (R-Carmel). Aspire supported this bill, as well.
Work Share: A Hybrid Approach to Unemployment
A Work Share program would allow employers to reduce employee hours in lieu of complete separation and the unemployment insurance program would pick up some or all the lost wages. Aspire identified this as a priority this session because such a program would allow employers to retain talent in tough times, allow employees to retain a job and benefits, and benefit the economy because it preserves economic output and requires less public expenditure.
Three bills were filled to establish a work-sharing unemployment insurance program. SB 44, by Senator Eric Bassler (R-Washington), has been referred to the Senate Committee on Pensions and Labor, but it has not yet been scheduled for a hearing. In the House, Representative Torr has filed HB 1235, and Representative Ryan Hatfield (D-Evansville) has filed HB 1277. Neither of the House bills have been assigned to a committee yet as they were just filed this afternoon. Aspire will advocate for these bills to give Hoosier employers another tool for talent retention.
Broadband
When the pandemic hit last spring, the issue of broadband coverage became clearer than ever, and Aspire identified expanding broadband as a priority issue this session. Senator Eric Koch (R-Bedford) filed SB 264 urging the legislative council to assign to the interim study committee on energy, utilities, and telecommunications the topic of the installation and leasing of broadband capacity infrastructure by investor-owned electric utilities to broadband service providers for broadband internet service to unserved and underserved areas in Indiana. With such limited funding for existing programs and priorities, we are glad to see a nod from the legislature to keep this issue on the front burner.
Governor, Interrupted
As anticipated, multiple pieces of legislation have been introduced by legislators that are frustrated with the unlimited executive authority granted to the Governor, especially during the COVID-19 health pandemic. HB 1123, authored by Representative Lehman (R-Berne), would limit the Governor's executive powers as they relate to the state of disaster emergencies, requiring the legislature to be in session for renewal after 30 days, or to be called in for a special session. It is important to note that as Majority Floor Leader, Representative Lehman holds the #2 position in the House, so his legislation is more than likely to move. Similar bills have been filed in the Senator. SB 75, authored by Senator Jim Buck (R-Kokomo), provides that any order, rule, or edict of any kind from the executive branch or the judicial branch that invades the constitutional or lawful authority of the legislative branch is null and void until approved by the general assembly. HB 1049, authored by Representative Jeff Thompson (R-Lizton), would give the legislature a mechanism to call itself into a legislative session, as opposed to the power only being given to the Governor.