FORUM Credit Union Names 2021 Entrepreneur Winner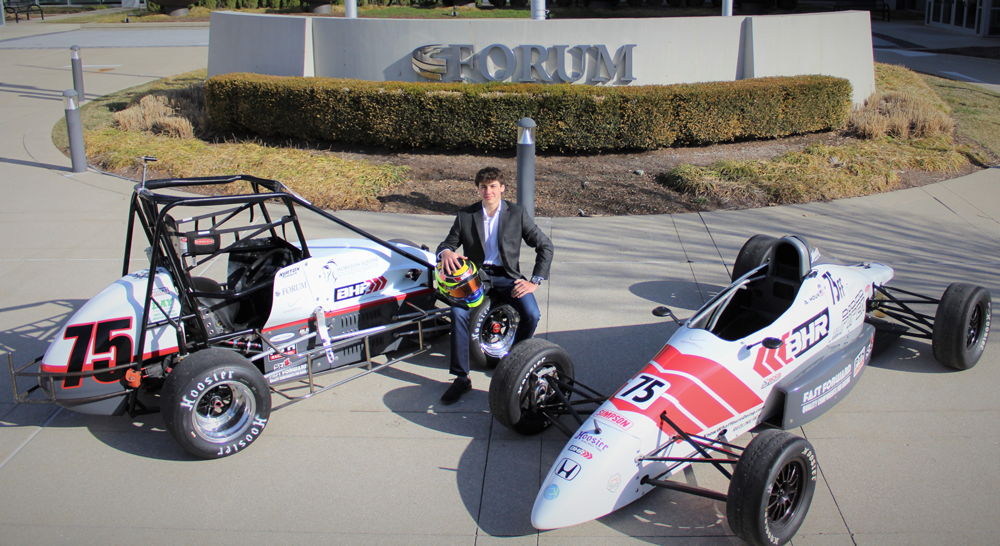 FORUM Credit Union is pleased to announce Ayrton Houk as its Young Leaders Council (YLC) Entrepreneur of the Year for 2021. This honor recognizes young FORUM members for their early entrepreneurial skills, leadership, and dedication to their business.
The YLC gives students an opportunity to find their voice and spark their entrepreneurial spirit. Participants in the group display valuable skills, including accountability, critical thinking, decision making and public speaking. Houk, a junior at Cathedral High School and resident of McCordsville, is a racing entrepreneur, who as a driver, founded AMH Racing, LLC, to manage the business side of racing. He is responsible for raising money to fund every aspect of his racing endeavors.
Ayrton began his racing career racing go-karts, then stepped up to bigger things in 2020. He ran the full Kenyon Midget season, competing at oval tracks across the state of Indiana. He also took his first laps, and first win in an F1600 car at Mid-Ohio Sports Car Course. Ayrton's 2021 season will feature a dedicated effort teaming up with Brad Hayes Racing for SCCA F1600 and Kenyon Midget races. The season will conclude with a run for the SCCA National Championship being held at the Indianapolis Motor Speedway.
"I am super excited about my partnership with FORUM Credit Union!" said Ayrton. "Besides providing opportunities to help support my racing season, this [partnership] will also help me effectively manage and record my business income, expenses and bank accounts with a local financial institution that I know and trust."
This Young Entrepreneur Recognition is part of FORUM's Young Leaders Council, a group of young adults, ages 17-24, coming together to gain financial skills, collaborating on new ideas for products to better serve young Credit Union members, and discussing financial related topics important to today's youth.
For more information regarding FORUM's YLC and this year's Entrepreneur of the Year, please visit forumcu.com/ylc-entrepreneur-program.
About FORUM Credit Union
FORUM Credit Union, with convenient branch locations and anywhere access via the internet or mobile device, serves more than 160,000 members in the central Indiana area. A full suite of financial services are offered including home mortgages, auto loans, personal checking, credit cards, business checking, health savings accounts, and investment planning. For more information about FORUM Credit Union, please visit: www.forumcu.com
Image: Ayrton Houk, FORUM's 2021 Young Entrepreneur Winner, in front of FORUM Credit Union Headquarters in Fishers, Indiana.