Franciscan Health Indianapolis Receives Top Rating in State for Interventional Coronary Care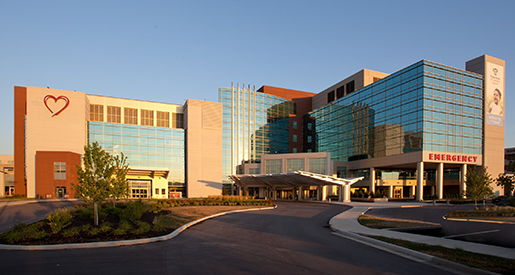 For the third year in a row, Franciscan Health Central Indiana has been recognized as the top hospital in the state for interventional coronary care.
The 2023 ratings - announced by CareChex®, an information service of Quantros, Inc. – indicate that Franciscan Health Indianapolis is No. 1 in the state and top 100 in the nation for medical excellence in interventional coronary care.
Physicians and staff of the Franciscan Health Heart Center, part of the Indianapolis hospital, have routinely been among the first adopters of advanced procedures and devices, including brachial artery approach for cardiac catheterizations, interventional valve replacements, extracellular matrix for heart and valve repairs, left atrial appendage occluder devices for patients with atrial fibrillation and advanced treatments for high blood pressure. The Heart Center was the first facility in the country to pioneer an emergency heart attack response team protocol for heart attack patients.
Franciscan Health participates in several research studies as well, including studies for medications and devices. Members of Franciscan Physician Network Indiana Heart Physicians and Cardiac Surgery Associates provide the foundation of the center's medical expertise and innovations.
In 2022, the International Cardio-Oncology Society named Franciscan Health Indianapolis a Gold Center of Excellence, making it just one of 15 cardio-oncology programs across the globe receiving top level gold status in the developing area of heart and cancer care.
"Our Heart Center team is constantly pushing forward, combining the latest technology and procedures with an unmatched compassion for our patients," said Lori Price, president and CEO for Franciscan Health Central Indiana. "We're happy to have this multi-year recognition of our commitment to offering our patients the best in cardiac care in our Franciscan tradition."
The CareChex rating system is designed to assist hospitals and healthcare systems in improving the quality of inpatient care and promoting clinical excellence to patients, payers and employers.
About Franciscan Alliance

The Franciscan Alliance healthcare ministry began in Lafayette, Indiana, in 1875. Today, Franciscan Alliance is one of the largest Catholic health care systems in the Midwest with 12 hospital campuses, more than 19,000 employees and a number of nationally recognized Centers of Health Care Excellence. Hospitals include: Franciscan Health Carmel; Franciscan Health Orthopedic Hospital (Carmel); Franciscan Health Crawfordsville; Franciscan Health Crown Point; Franciscan Health Dyer; Franciscan Health Indianapolis; Franciscan Health Lafayette; Franciscan Health Michigan City; Franciscan Health Mooresville; Franciscan Health Munster; Franciscan Health Olympia Fields (Illinois); and Franciscan Health Rensselaer.
About Quantros CareChex®
CareChex Awards by Quantros utilizes a peer-reviewed risk-adjustment methodology to more reliably measure rates of mortality, complications and readmissions — appropriately weighting and accounting for all of the risk factors relating to a patient's principal and secondary diagnosis, as well as other patient characteristics that may increase the probability for adverse clinical outcomes. These rankings do not include any self-reported data.
Quantros prides itself in providing the most comprehensive and objective calculation of hospital and system quality performance in the industry. Our vast datasets represent high statistical significance and do not include any self-reported or survey data. In turn, creating clearer performance differentiation across 39 clinical categories of care in Medical Excellence and Patient Safety. For access to provider quality ratings, visit www.carechexawards.com.