Franklin College Announces Speakers for National Trauma Journalism Symposium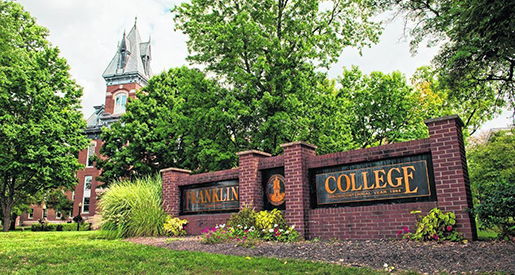 Franklin College is pleased to announce the growing list of nationally recognized speakers for the upcoming National Trauma Journalism Symposium on Sept. 21-22 on the Franklin College campus.
The symposium is a partnership between the Franklin College Pulliam School of Journalism and the Trust for Trauma Journalism (TTJ), which serves trauma journalists and those who cover violence, conflict, combat and catastrophe, providing services and support before, during and after they go into harm's way.
"Addressing trauma in the field of journalism upholds our ethical responsibilities to the profession, respects the dignity of those affected, and helps improve the well-being of journalists and the communities they serve," said Franklin College President Kerry N. Prather.
The symposium opens with a keynote panel discussion on school shootings moderated by Linsey Davis, ABC World News Tonight weekend anchor/ABC News Live Prime anchor. Javier Garza Ramos, founder of the local news platform EnRE21Laguna, host of the daily radio newscast Reporte100, and expert on journalist safety, will provide the closing keynote on Friday. In between, multiple panel discussions are planned on a variety of topics, including:
"Taking Care of Yourself While Reporting on Traumatic Events," led by John Krull, Franklin College director of the Pulliam School of Journalism and Franklin College graduate.
"Trauma-Sensitive Interviewing and Reporting," led by Eric Bradner, senior national political writer at CNN and Franklin College graduate.
"Covering Traumatic Events on College Campuses," including panelists from Michigan State University, Northwestern University, Indiana University and Franklin College.
"Creating a Circle of Trauma-Aware Communication: A Conversation Among Journalists and Public Information Officers." Panelists include professionals from both the journalism and public relations fields, including Deana Haworth, CEO at Hirons; Scot Thomasson, retired Justice Department Bureau of Alcohol, Tobacco, Firearms and Explosives Special Agent; and Jill Sheridan, city government and policy reporter for WFYI.
"The Trust for Trauma Journalism is pleased to partner with Franklin College once again for the National Trauma Journalism Symposium," said Julia Pierson, board chair for TTJ. "For too long, the trauma associated with covering the news has been given too little attention. The Trust for Trauma Journalism exists to change that. This symposium is an important part of that work, and we are grateful to have such a willing ally in Franklin College."
"We are extremely grateful to Sean and Scot Thomasson, along with their families, for recognizing the importance of this topic and spearheading the launch of this program," said Prather. "The symposium will have a profound impact on those who attend, and it will pay honor to the late Dan Thomasson, legendary Washington journalist and longtime Franklin College trustee. We are also grateful to TTJ for supporting the effort philanthropically."
The symposium is not only for practicing journalists and students studying journalism, but for many others as well, including those teaching these important subjects in high school and university environments. Students studying psychology, social work, law enforcement, in addition to those preparing for health care professions, are welcome and encouraged to attend.
Many journalism students attended the inaugural symposium in 2022.
"Connecting with alumni and other journalists in the field, perhaps from all over the world, made the symposium so worthwhile," noted Sydney Byerly, a Franklin College senior. "Being able to discuss and critically think as a group about how we as journalists can cover difficult topics with care—for our sources and ourselves—is an invaluable lesson I think all of us need. For me, to be able to get that from something like this, without having to go very far, was wonderful."
Scholarships are available for students by contacting Joe Morris, academic administrative assistant for the Pulliam School of Journalism, at jmorris@FranklinCollege.edu.
More information about the growing list of participants, programming, registration and overnight accommodations for the two-day event can be found here. Virtual attendance is offered.
Founded in 1834, Franklin College is a residential liberal arts and sciences institution located 20 minutes south of Indianapolis. Franklin offers a wide array of undergraduate majors as well as master's degree programs in Physician Assistant Studies and Athletic Training. The unique curriculum merges classroom instruction with immersive experiences, research opportunities and study away programs. Students participate in 21 NCAA Division III sports, esports, Greek life, musical and theatre productions and more than 40 student organizations. As the first college in Indiana to become coeducational with the admission of women, Franklin welcomes diversity of thought, belief and person into a community that values equity and inclusion. Franklin College maintains a voluntary association with the American Baptist Churches USA. For more information, visit www.FranklinCollege.edu. Find Franklin College on Facebook, follow @FranklinCollege on Twitter and watch FranklinCollegeGrizzlies on TikTok.