Franklin College Model UN Team Earns Top International Accolades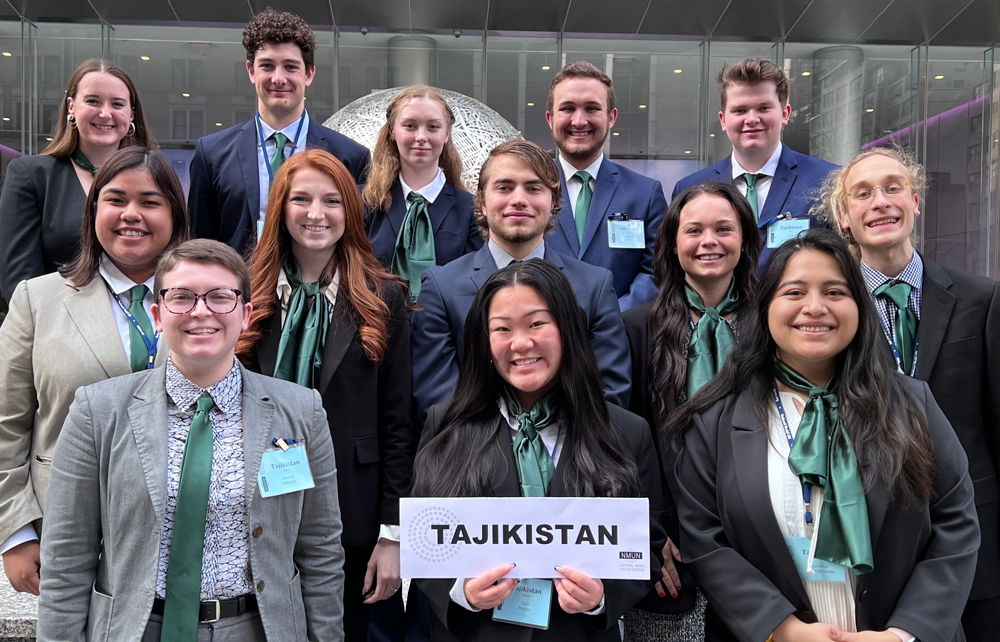 Model UN team members include, front row, left to right: Andrea Rahman, Cara Mullen, Carolina Puga Mendoza. Middle Row, Amy Garrido Portillo, Maggie Jaggers, Isaac Gleitz, Annah Elliott, Bennet Hanson. Back row, Paige Hedger, Paul Klaeren, Shea Reynolds, Clay Black, Noah Childers.
The Franklin College Model United Nations Team, comprised of 13 students, was awarded the Distinguished Delegation award, the second-highest award conferred, at the world's largest simulation of the United Nations. The students competed head-to-head against thousands of students from a wide variety of countries during the April 2022 National Model United Nations Conference in New York City (MUN-NY).
In comparison to institutions much larger than Franklin College, this Distinguished Delegation award ranks Franklin among the top in the world. In head-to-head competitions, Franklin beat out schools like Syracuse University and tied with Loyola University, Chicago. The award also places Franklin College's Model UN Team on par with Brigham Young University.
The college's Model UN Team represented the delegation from Tajikistan, a country in Central Asia that borders Afghanistan, China, Kyrgyzstan and Uzbekistan.
The conference also acknowledged the work of specific individuals on Franklin's team who worked in pairs. Annah Elliott and Bennett Hanson were awarded Outstanding Position Paper by the Conference for presentation of the position of Tajikistan, upon the topics facing the General Assembly Second Committee (economic and financial committee). The award indicates the paper submitted by these students was among the best in the world.
In addition, Carolina Puga Mendoza and Isaac Gleitz were awarded the Outstanding Delegation by their peers for their leadership and work within the International Organization for Migration. This top award demonstrated recognition by the students from all six inhabited continents of the superior performance of these students.
Due to the risks associated with traveling during the COVID-19 Pandemic, Franklin College has not sent a team to the Model UN Conference since 2019, thus this group of students did not have the advantage of peer experience when preparing for the competition.
The National Model United Nations Conference is the oldest and largest international conference of its kind and was the first recognized by the United Nations as a formal non-governmental organization. The Franklin team competed with thousands of students from around the globe.
"This is a substantial achievement," said Randall Smith, Ph.D., professor of political science and Model UN team advisor. "Franklin's team of first-time Model UNers went up against students with years of Model UN experience from some of the best programs in the world. And Franklin brought home one of the top awards. I am really proud of their success."
The team consisted of the following Franklin College students:
Maggie Jaggers, who served as Head Delegate, of Indianapolis (46259).
Clay Black of Troy, Ohio.
Noah Childers of Edinburgh.
Annah Elliott of Martinsville.
Amy Garrido Portillo of Greenwood.
Isaac Gleitz of Corydon.
Bennett Hanson of New Palestine.
Paige Hedger of Cold Springs, Ky.
Paul Klaeren of Duesseldorf, Germany.
Cara Mullen of Carthage.
Carolina Puga Mendoza of West Chester, Ohio.
Andrea Rahman of Martinsville.
Shea Reynolds of Austin.
"In addition to advisor Randy Smith, the team was also supported in this endeavor by Lisa Mahan, Franklin College registrar, who traveled with the team. Mahan is a 1988 alumna of the college."
For more information, contact the Franklin College Office of Communications at 317.738.8185.
About Franklin College
Founded in 1834, Franklin College is a residential liberal arts and sciences institution located 20 minutes south of Indianapolis. Franklin offers a wide array of undergraduate majors as well as master's degree programs in Physician Assistant Studies and Athletic Training. The unique curriculum merges classroom instruction with immersive experiences, research opportunities and study away programs. Students participate in 21 NCAA Division III sports, Greek Life, musical and theatre productions, and more than 40 student organizations. As the first college in Indiana to become coeducational with the admission of women, Franklin welcomes diversity of thought, belief and person into a community that values equity and inclusion. Franklin College maintains a voluntary association with the American Baptist Churches USA. For more information, visit www.FranklinCollege.edu. Find Franklin College on Facebook and follow @FranklinCollege on Twitter.