Statehouse Update: Session Reaches Halftime, Achieves Small Business Tax Savings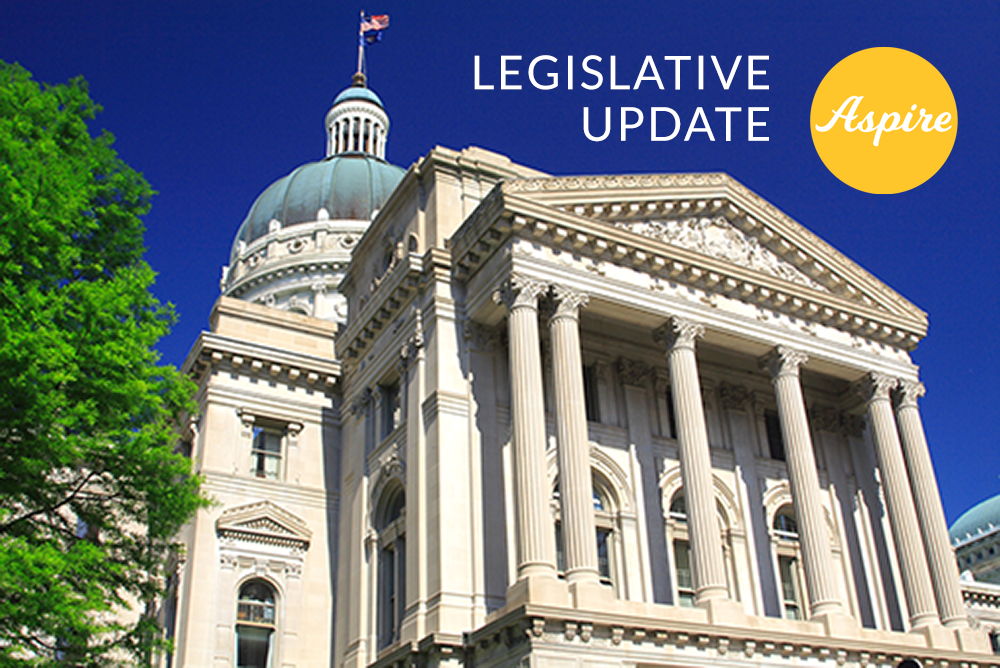 Committee report deadlines passed last week, as did second reading in the House, dramatically reducing the large volume of bills filed by two-thirds. Final third reading deadlines arrived this week on Monday and Tuesday meaning we have reached the halfway mark of session. Here's where we stand on topics of interest for our business leaders at the midpoint.
Governor Signs First Bill
A bill to provide a tax deduction for most small Hoosier businesses made its way to the Governor's desk last Thursday and became the first bill of the 2023 session to receive his signature. SEA 2 allows pass-through entities (partnerships, sole proprietorships, LLCs, and S corps) to elect to pay their state and local income taxes (SALT) at the entity level, and not the individual shareholder level, creating a tax deduction on the entity's federal return. Some advocates for the bill say its passage could potentially result in an estimated $50 million in annual tax savings for business owners by allowing the tax liability to remain at the entity level and not pass through to the shareholder.
Diminishing a Critical Economic Development Tool
A lot of good conversation was held around the local community's use of Tax Increment Financing (TIF), which captures new commercial property tax revenue growth into a fund and used to spur additional commercial investment (job creation). As the local economic development organization for Johnson County, Aspire strongly believes in preserving and enhancing the tools we have in our economic development toolkit.
HB1085 would have done the opposite by redirecting funds from the TIF to other local taxing districts, severely restricting the local Redevelopment Commission's ability to move at the speed of business when trying to land a new company (jobs), and muddied the waters on who should appoint members of Redevelopment Commissions. A statewide coalition of local elected and economic development leaders, including Aspire, opposed the bill, which made it all the way past the House floor second reading. But too many legislators heard from their local leaders opposing the bill. It was not called for third reading and died on the floor.
HB 1001 Budget Bill Passes First Chamber
HB 1001, the biennial budget bill, passed out of Ways and Means last Monday and was then approved by the full chamber by a party-line vote of 66-29 on Thursday afternoon. Amendments adopted during second reading include minority teacher scholarships, a prohibition of state funding for Indiana University's Kinsey Institute, and an increase in the Sexual Assault Victims Assistance fund to $8M. In the $43.3B spending plan, House Republicans prioritize keeping a healthy reserve while investing a portion into one-time spending initiatives to help Hoosier families, promote economic development, and invest in infrastructure. See the House Ways and Means committee chair's slide presentation on the budget bill for an overview of the bill and State's fiscal trends. The bill now heads to the Senate for consideration.
Work Share Bill Dead
We are sad to report that SB347 creating a new Work Share program for Indiana did not receive a hearing in the Senate Appropriations Committee. The bill is now dead as committee deadlines have passed. We are happy the bill passed out of its originating committee, making legislative history for efforts to establish a Work Share program in Indiana. We will continue to support its future adoption.
Child Care Programs – Small Gains Made
We have been tracking several bills to make childcare / pre-K more affordable. Last week we reported that the budget bill added language to raise the family income eligibility for Indiana's On My Way Pre-K (OMW) program. The budget bill passed the House. We also reported HB1591 was likely going to be amended in committee to pick up some of the non-fiscal language from the stand-alone Senate pre-K bill 307. We are pleased to report the amendments to 1591 occurred last week and House unanimously passed the bill on third reading. All live language concerning pre-K is now in the Senate for the second half of session.
Housing Affordability
On the housing front, we are pleased to report SB 339 unanimously passed third reading (bipartisan support!) and is now on its way to the House. This bill establishes a tax credit for a contribution to an affordable housing organization.
Halftime
The first half of the session ended this week. All House bills must have already passed the third reading deadline on Monday and Senate bills must pass third reading deadline on Tuesday. Bills that did not make it through the deadlines are dead. The General Assembly will adjourn for "halftime" this Wednesday, March 1, and reconvene on Monday, March 6. There will be no Statehouse update next week but we will return the following week to report on the start to the second half!