Aspire COVID Impact Survey Shows Area Businesses Struggle Yet Endure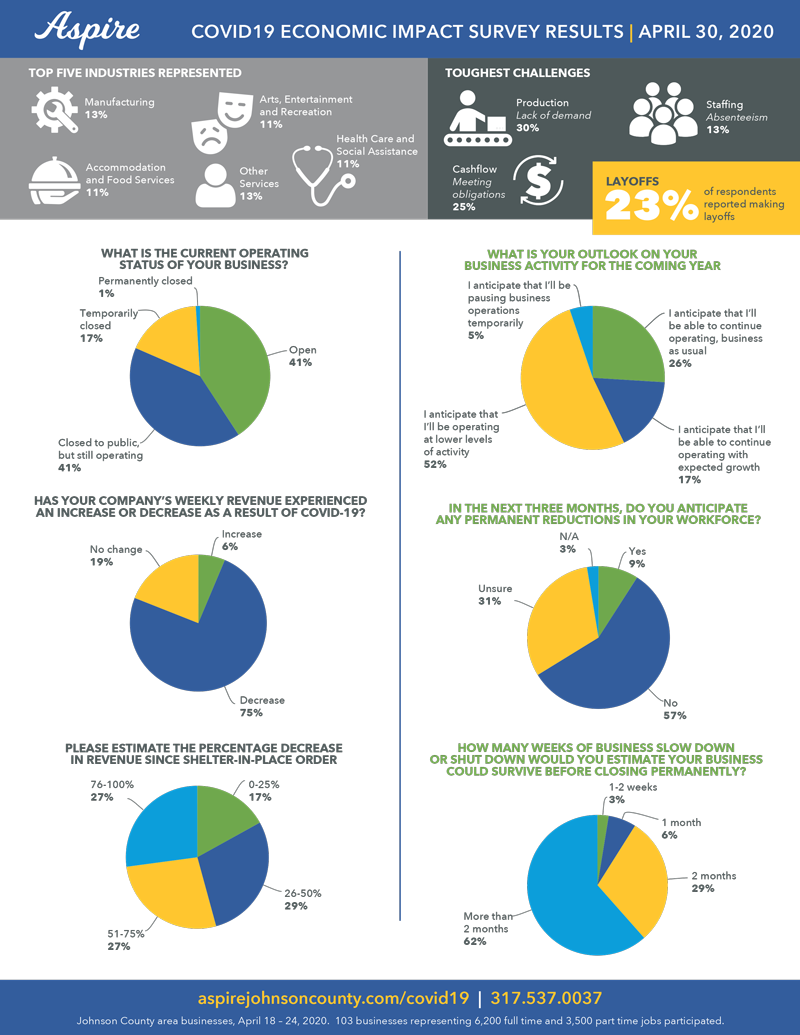 Aspire conducted a survey of Johnson County area businesses to assess the economic impacts on them during the first month of the COVID-19 outbreak. The survey, conducted April 18-24, involved 100 businesses representing 6,200 full-time and 3,500 part-time jobs.
"Aspire conducted the survey to track economic impacts and to detail the reality for private and public sector decision-makers. Ultimately, we want to make sure we are delivering timely services to our business community," said John Sturm, chief executive officer of Johnson County REMC and Aspire's vice board chair for economic development. "At all times, and certainly during these extraordinary times, we remain committed to leading our area's business community. Their business success is very important to us."
Respondents came from a broad cross-section of industries. Manufacturing accounted for 13% of the businesses responding as did other services, including automotive repair and services, equipment repair, barber/beauty shops, funeral services, dry cleaning, churches and religious organizations, civic and social organizations, business and professional associations, and labor union organizations.
One-third of participants represented three sectors: health care and social assistance; arts, entertainment and recreation; and accommodations and foodservice.
"The state of local business can best be described as down but not out," said Christian Maslowski, president and CEO of Aspire Economic Development + Chamber Alliance. "The initial waves of the pandemic, social distancing and shelter in place crushed many small businesses into permanent closure. But the diversity of industries operating in the Johnson County area has tempered the long-term damage to our economy, just as it helped temper the economic storm of 2008-09."
Maslowski acknowledged many businesses have experienced steep losses, especially those relying on gatherings of people and personal contact with clients, and many valued small businesses risk permanent closure.
"But there is hope," he said. "Remaining businesses expect to survive, albeit at smaller employment and revenue levels than originally planned for 2020. They just need some level of guidance on when and how to reopen, which came on Friday with Gov. Holcomb's Back on Track Indiana plan."
State of Operations
More than 80% of respondents said they were either open for business or closed to the public but still operating. Most businesses (72%) reported they were still running at least 50% of their operations on-site, with 58% saying they were running less than one-quarter of their operations remotely.
The toughest challenges facing businesses were the lack of demand for their goods or services (reported by 30%) and cash flow problems that are affecting their ability to meet their obligations (reported by 25%). Many open businesses (26%) reported employee absenteeism as a challenge, illustrating the ripple effects from school closings and health fears onto businesses whose services and goods are still in demand.
Workforce Impacts
In terms of the impact on the workforce, 23% of respondents reported making layoffs. But the overall number of affected workers amounted to about 2% of the total full-time and 9% of the total part-time jobs at their businesses.
However, 63% of the respondents said they have workers who are furloughed or temporarily not working. More than one-third (35%) of these employers said they will continue to pay at least half of their full-time furloughed employees, while just 19% said they were paying at least half of their part-time furloughed employees.
Most respondents (57%) do not anticipate making additional permanent reductions in their workforce in the next three months, compared with 9% that do and 31% who are still unsure.
Revenue Impacts
A full three-quarters of respondents reported a decrease in revenue since the start of the COVID-19 crisis. Slightly more than half (54%) said they have lost between 50% and 100% of their weekly revenue since the shelter-in-place order began. Almost three-quarters (73%) said they are seeking financial support from the recent federal relief programs.
Open but Closed: A Perpetual State of Transition
The survey results tell the story of a particularly distressed class of businesses – those that were operating but closed to the public. The top three industries in this category are arts, entertainment and recreation (17%), professional, scientific, and technical (13%), and accommodations and food service (13%).
Cash flow far outranked all other concerns facing businesses that were operating but closed to the public.
"Not fully open, but not fully suspending operations, these fatigued businesses are in a perpetual state of transition. They are trying to maintain some provisional level of operation in order to capture what business is left to be had," said Maslowski.
Compensation strategies may explain why cash flow is a particular hardship for "open but closed" businesses. A third of these respondents said they plan to pay furloughed employees for seven to eight weeks compared to a third of fully open respondents, who said they plan to pay their furloughed workers for one or two weeks.
Business Outlook
About 40% of these businesses expected to see revenue declines of 25% or more during the coming year. Nevertheless, 62% of respondents reported they could survive over two more months of a shutdown or shelter-in-place order.
Maslowski sees this as a hopeful sign. "As we experience the staged reopening of the Hoosier economy, this is a sign of long-term viability and recovery for Johnson County area businesses," he said, cautioning that the length of time for reopening the economy will be critical for business survival and outlook, especially for businesses that are open but closed to the public.
"Aspire will continue to deliver services that improve the flow of cash in our local economy, like our Express eGift Cards, and we will continue to convene business owners to share best practices on business survival and reopening, as we do at our industry roundtables."
VIEW DASHBOARD OF APRIL RESULTS
Aspire plans to conduct this survey again in one month to track developments and examine the reality at that time for public and private sector decision-makers, so they may deliver the necessary business services.