Biotech Company Plans Long-Term Growth, R&D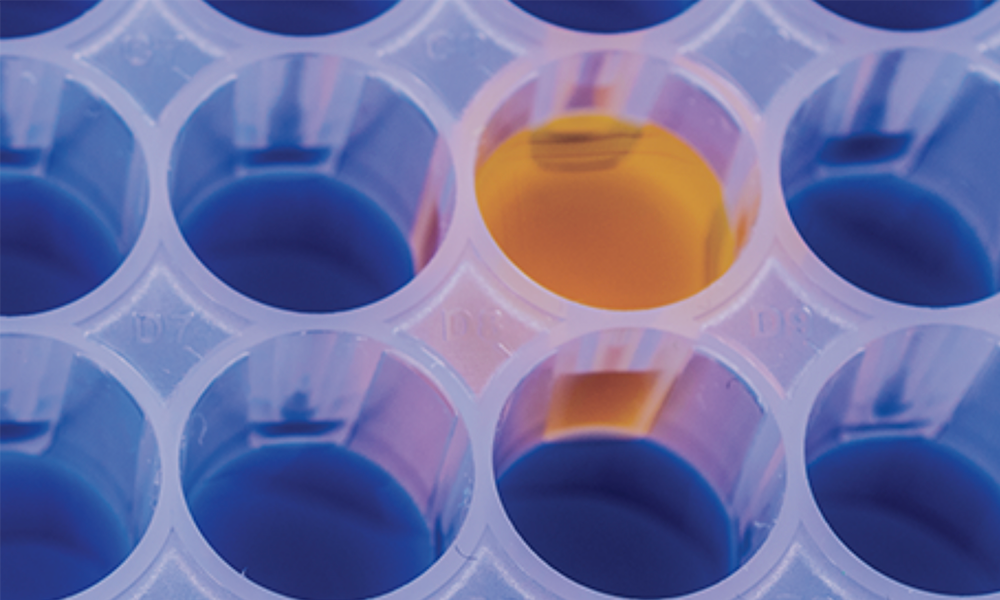 FRANKLIN, IN – B2S Life Sciences, a biotherapeutic drug development company, announced plans today to expand its operations in Johnson County, creating up to 23 new, high-wage jobs by 2020.
"Indiana has earned a reputation as a global leader in life sciences, ranking second in the nation for worldwide exports," said Elaine Bedel, president of the Indiana Economic Development Corporation (IEDC). "At its new facility, B2S can continue to advance new technologies and life-saving research, while simultaneously investing in Indiana's future workforce, propelling other entrepreneurs and creating good jobs for Hoosiers. We're excited to witness B2S' continued growth alongside our life sciences sector here in Indiana."
The company, which develops pharmaceutical and diagnostic biological reagents, is investing $1.5 million to expand and renovate its nearly 3,000-square foot facility at 97 E. Monroe St. in Franklin, adding 9,000 square feet of laboratory space. The new building, which is scheduled to be operational in the summer of 2018, will allow B2S to grow its client base, which includes large contract research organizations (CROs), pharmaceutical companies, and smaller biotech businesses and startups. The company also plans to scale its reagent manufacturing to meet export demands and expand its services in biotherapeutic drug development.
B2S currently has 16 full-time employees and plans to begin hiring this year for scientists, project managers, statisticians, and business development and management associates. New positions are expected to offer average salaries above the state and county average wage. Interested applicants may learn more about the company's career opportunities online or submit a resume at info@B2SLifeSciences.com.
"Recruiting and hiring local talent in the area is a priority for us," said Dr. Ron Bowsher, chief scientific officer at B2S. "From the onset, we have worked together to enhance the local area where we live and work. This priority is reinforced by the fact that many of our lab staff reside in the southern portion of Marion County or Johnson County and by our close partnership with Franklin College. We look forward to continuing to grow the life sciences and biotech presence in central Indiana."
Founded in 2015, the company specializes in drug development support with products and analytical services that facilitate drug research. Through its collaborative efforts, B2S scientists are contributing to advance treatments for cancer, diabetes and other chronic diseases. Along with its planned growth, the additional lab space will help propel biotech startups and other small operations. The company is also investing in central Indiana's workforce by partnering with Franklin College to give Hoosier students the opportunity to receive hands-on experience through internships in applied biotechnology.
"Franklin is pleased to have B2S in our dynamic downtown. We look forward to seeing them expand and bring more economic diversity to our city," said Franklin Mayor Steve Barnett.
The IEDC offered B2S up to $250,000 in conditional tax credits based on the company's job creation plans. These tax credits are performance-based, meaning until Hoosiers are hired, the company is not eligible to claim incentives. This project was supported by the Johnson County Development Corporation and received grant funding and other tax incentives from the Franklin Development Corporation and Franklin Redevelopment Commission.
"This project gives B2S the opportunity to invest in highly skilled talent and jobs quicker than we would be able to achieve otherwise. Together, the state of Indiana, IEDC and city of Franklin have created an environment where small businesses can grow and prosper, allowing for quality of life improvements and business diversification in the region," said Aleks Davis, chief executive officer at B2S.
Biotech companies like B2S are choosing to locate and grow their operations here because of Indiana's reputation as a global leader in the life sciences industry. According to BioCrossroads and the Indiana Business Research Center, Indiana is the second largest exporter of life sciences products in the U.S. at $8.2 billion in total exports. More than 1,600 life science companies operate in the state, supporting more than 55,000 Hoosier jobs with average wages of nearly $95,000 annually.
About B2S Life Sciences
B2S Life Sciences LLC is a customer-focused biotherapeutic enablement company located in Franklin, Ind. The company sepecializes in bioanalytical consulting, immunoassay development, custom biological reagent generation and life-cycle management (LCM), immunogenicity cut point analysis, PK/TK statistics and advanced analytics. For more information about B2S, visit www.b2slifesciences.com.
About IEDC
The Indiana Economic Development Corporation (IEDC) leads the state of Indiana's economic development efforts, helping businesses launch, grow and locate in the state. Governed by a 15-member board chaired by Governor Eric J. Holcomb, the IEDC manages many initiatives, including performance-based tax credits, workforce training grants, innovation and entrepreneurship resources, public infrastructure assistance, and talent attraction and retention efforts. For more information about the IEDC, visit www.iedc.in.gov.