Business Recovery Series: Home Services Quickly Close Then Recover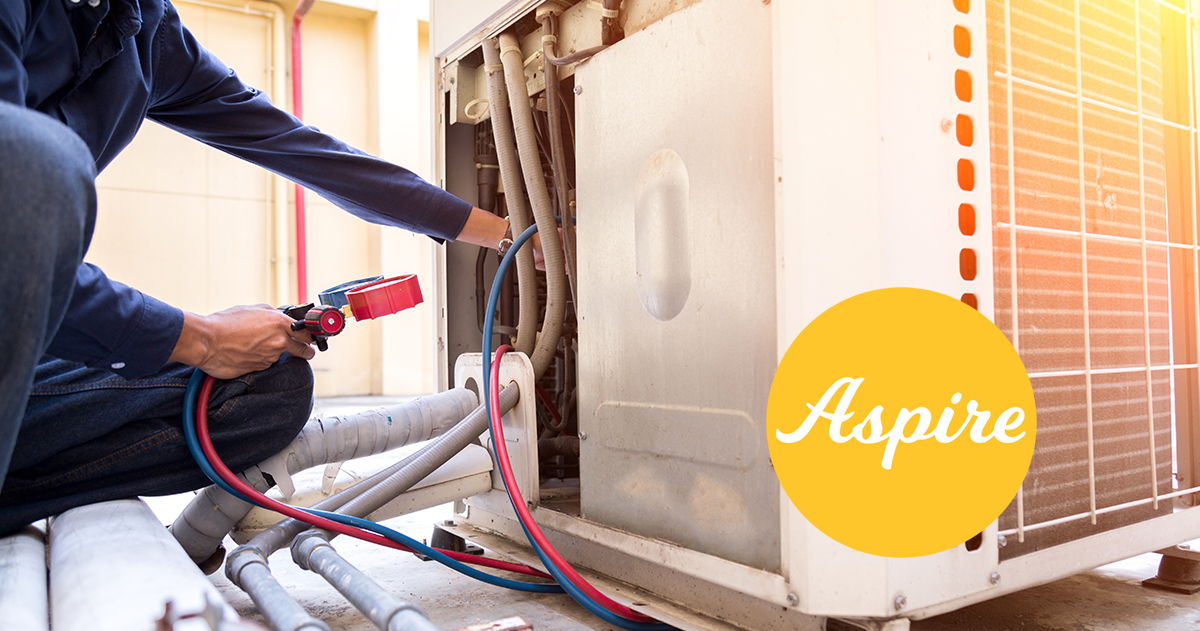 Businesses in the home services industry felt the initial brunt of the pandemic, and they are now largely in the recovery and reopening phase. This industry includes mechanical services, plumbing, HVAC, and flooring, among others. Owners of these businesses found creative ways to navigate the new landscape.
"We heard the most gut-wrenching stories from this industry when the pandemic first hit us in March 2020," observed Aspire President and CEO Christian Maslowski. "They essentially stopped overnight. Business owners were doing their best to avoid layoffs, which we found to be especially true with locally owned companies. Fortunately, as the public learned more about the virus and how to stay safe, these industries were also quick to ramp back up."
One company in the mechanical services sector saw its growth pattern pause, then resume. Leslie Beeson, the owner of Beeson Mechanical Service in Whiteland, noted, "Initially, we were very careful going into peoples' homes. For the first month, we went there for emergencies only, postponing maintenance." She added, "We asked if anyone has been sick, if they wanted us to wear a mask, and so forth."
"We've now resumed maintenance at the discretion of our customers. Not performing maintenance could cause an emergency later. We call each customer to let them decide if they want maintenance work done," Beeson explained. "We're now back to providing our full range of services." How is business today? "We've returned to the growth pattern we had been in for several years. The pandemic slowed our rate of growth, but now we've resumed our pre-pandemic development plans."
In the plumbing and HVAC sector, one business slowed way down until summer, when it reversed course. Dan Allen, co-owner of Allen Home Services in Greenwood, noted, "Business was good up until the end of January last year, then for a few months it really slowed down, both commercial and residential. People didn't want servicemen in their homes or businesses."
"But by the July-August timeframe, our business started to open up again and business took off," Allen recalled. "During that time, we took every health precaution, and all of my employees did what was asked of them. It was harder to talk to customers, but we made a real effort to explain to them which employee was coming to their home or business and their background. We found that helped earn their trust." How is the company trending now? "We're back 110% and business is really booming," Allen reported.
The flooring sector provided opportunities instead of challenges for at least one company. Owner Autumn Revel of Best Price Flooring in southern Indianapolis said, "We had one of our busiest years ever in 2020. People were working remotely, sometimes with extra time for home projects. That affected us in a good way. We never had to close down." She added, "We really feel for the people whose businesses did suffer during the pandemic, some of them having to close their doors. We hope they get back on their feet."
While their business was good last year, it was not without its problems, Revel noted. "Scheduling was a problem, with everyone wanting their work done right away." In addition, product costs "skyrocketed" starting in January, Revel noted, and they continue to rise. "The price of everything – carpeting and pads, hard surfaces, tools, adhesive – are rising every two to four weeks, whereas past increases only occurred about twice a year. It's a supply-and-demand problem, plus it's taking more time for materials to arrive."
"This industry managed through economic whip-lash, with some sectors benefiting from residents spending more time at home" concluded Maslowski. "These companies endured to continue servicing essential systems and components that run our homes and businesses; we thank them for their customer dedication!"