Aspire Announces Finalists for Business Resilience Award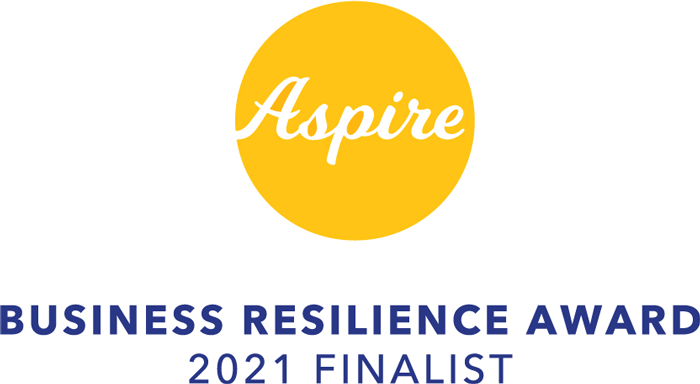 Award recognizes employers' ability to adapt to the COVID pandemic
Johnson County, IN – Aspire Economic Development + Chamber Alliance today announced finalists for its Business Resilience Award, created to recognize employers that discovered innovative ways to adapt, forge a new path of resiliency, and survive the COVID pandemic. All for-profit and nonprofit organizations doing business in Johnson County and southern Indy were eligible to be nominated. The winner in each employer size category will be revealed at "Celebrate Aspire" on May 20. The event will be held at The Nest event center in Greenwood. Details and registration are available here.
Finalists by category are:
Small Companies (1-9 Employees)
ASAP Payroll, Legacy Homes International, Middle Davids Artisan Candles, Pilsung ATA Martial Arts, Seniors Helping Seniors
Medium Companies (10-49 Employees)
ALL IN Painting, Crown Services, Express Employment Professionals, Grafton Peak Catering, Revery, Selective Seconds
Large Companies (50+ Employees)
Approved Mortgage, The Garrett Companies, Radwell International, Tonn and Blank Construction
Small Nonprofits (1-9 Employees)
Franklin Heritage, Inc., Indiana FFA Leadership Center, Leadership Johnson County, Resources of Hope
Large Nonprofits (50+ Employees)
Clark-Pleasant Community School Corporation, Franklin College, Johnson County Public Library, Otterbein Franklin
"Aspire's finalists are all testaments to the entrepreneurial spirit driving American business and the American economy," Aspire President + CEO Christian Maslowski noted. "Their stories are astonishing. Each finalist embraced technology in new ways, some for the first time, and some scaled in just days or a single business week. Many finalists successfully diversified their product and service offerings, then targeted new client markets to sustain and grow revenue. And some finalists pivoted to a completely new business model or entirely reinvented the way they do business."
Maslowski added that like every business, employee retention and revenue stabilization drove the finalists' pandemic response. "But we were moved to learn most finalists also made business decisions to best support customer success, even when it was financially risky and unprofitable."
The nominations themselves reflected these thoughts time and again, Maslowski said. Here is a sampling:
"Do the right thing – no matter the cost."
"We had to invest in better technology."
"We had to target new industries."
"Pivoting was a must."
"We are now more diversified."
"Response was a completely different concept."
"Resilience is not inherent to running an organization," Maslowski concluded. "It requires intentional effort, creative thinking, a can-do attitude, and a willingness to try new things. While the pandemic is not yet behind us, we celebrate Aspire's Business Resilience Award finalists' efforts and outcomes."
About Aspire Economic Development + Chamber Alliance
Aspire Economic Development + Chamber Alliance's mission is to drive economic development and business success in Johnson County and southern Indianapolis. As the local economic development organization for Johnson County, Aspire works to attract, retain, and expand businesses in the county. As a chamber of commerce, Aspire leads the area's business community by advancing pro-growth policy, leveraging community development opportunities, and providing comprehensive member services to entrepreneurs, small businesses, and large corporations. For more information, please visit AspireJohnsonCounty.com.