Dan Moore Receives Sagamore of the Wabash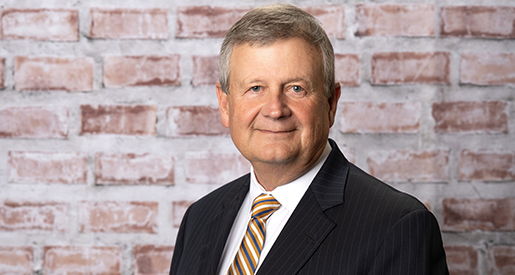 Dan L. Moore has been named a Sagamore of the Wabash by Governor Eric Holcomb. Rod Bray, President Pro Tempore of the Indiana Senate, presented Moore with the honor on Sept. 13 in conjunction with the Indiana Bankers Association annual convention in French Lick. The award is a tribute given to those who have rendered distinguished service to the state of Indiana.
Moore's history of leadership and community affiliations are many. He joined Home Bank in Martinsville in 1978, retiring as President/CEO in 2020 and currently serving as Chair. He is also Chairman of the Federal Home Loan Bank of Indianapolis and Chair of Council of Federal Home Loan Banks, the trade association for the FHLB system. Also on a national level, he was appointed to a position on the Mutual Institution Advisory Board of the Office of the Comptroller of the Currency. Moore was a member of the Hoosier Voices for I-69 and is currently a director for Stability First in Martinsville. He is a graduate of Indiana State University and holds an M.S. in management from Indiana Wesleyan University.
About Home Bank SB
Home Bank SB was chartered in 1890 as a mutual institution which essentially means that it is owned by its depositors. Without private ownership or stockholders, the bank's profits are allocated entirely to its capital reserves, resulting in greater fiscal strength and resources for community support.