Digital Talent Attraction Campaign a Big Success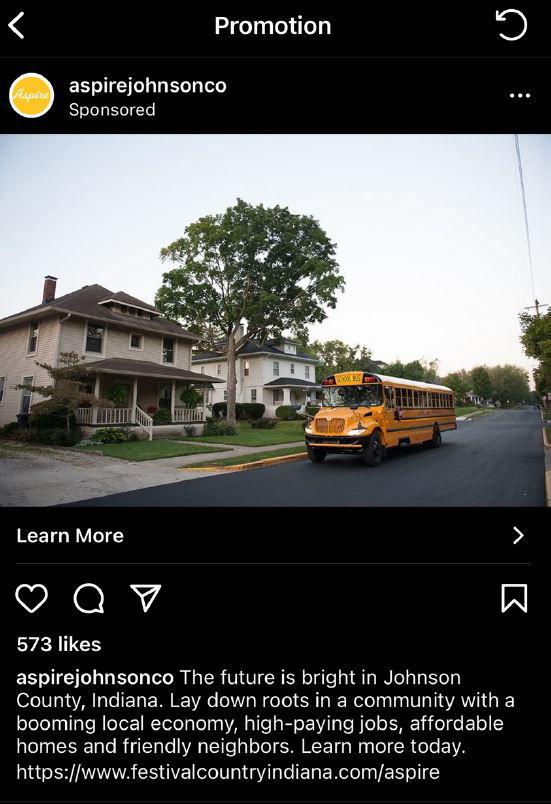 The results are in: Aspire's first-ever digital talent attraction campaign conducted during the fall 2021 Home-A-Rama was a big success. The objective of the campaign was to convey the message that Johnson County is the best place to live and work. This message was reinforced through advertising in this year's NCAA National Championship program.
"Aspire partnered with the area's tourism bureau, Festival Country Indiana, to launch Johnson County's first-ever such campaign," explained Aspire President and CEO Christian Maslowski. "We targeted attendees of the home show – hosted in Johnson County for the first time – and ran programmatic display on social and web channels to target high-value audiences in Central Indiana. Advertising featured our quality of life, housing and jobs."
In the social media portion of the campaign, nearly 800,000 people were exposed to messaging and over 50,000 interacted with it – liking, sharing and clicking. In addition, visitors to the Aberdeen subdivision in Bargersville received digital advertising on their smartphones (known as "geofencing"), and once they left the event, they were sent the advertising again.
Digital advertising targeting people looking for homes, jobs or tourist attractions in Central Indiana was seen by just over 700,000 people. This resulted in 1,200 of them visiting a special website landing page with information about available jobs and homes as well as the quality of life in the Johnson County area. Overall, organizers felt the campaign performed very well, above industry averages for this type of digital ad effort.
Maslowski noted that Johnson County residents and businesses have built a foundation of what "community" should feel like, built on the ingredients of safety, affordability, wholesomeness, proximity and fiscal sensibilities. "Johnson County has all the needed elements to thrive over the next several years and beyond. In a world that is seeking definition, certainty and a network, Johnson County has a clear vision for its future, unified and bold leadership and a connected culture. Johnson County offers accessible, safe, and livable communities."
Why did Aspire launch this campaign? Attracting talent affects multiple audiences, Maslowski explained. "For Aspire members, addressing the availability of a high-skilled workforce is perhaps the most cross-cutting issue facing the economic development efforts of Johnson County as well as South Indy and the greater Indianapolis Metropolitan Statistical Area. This is a critical component to addressing our community's talent needs."
And for Johnson County at large, Maslowski noted, welcoming new residents of prime working-age has the potential to enhance a sense of community and enrich connections to and between Johnson County neighborhoods. "New residents also provide the basis for new volunteers in our local non-profit sector and customers at our local businesses," he added.
Talent attraction is a key element of Aspire's economic strategic plan, which centers on growing more jobs in the advanced industry supersector, Maslowski explained. "Aside from recruiting companies to Johnson County in these sectors – including life sciences, IT, professional services, advanced manufacturing and engineering – we also need to grow local talent to fill jobs in these industries. And talent development is Job #1 in economic development right now. We'll attack the issue on three fronts: pipeline development of youth, training of existing workforce and talent attraction."
Increased marketing efforts are needed to showcase Johnson County's talent and industry assets, Maslowski stressed. "The best-kept secret" is the wrong marketing message and strategy for success, he explained. "It's a noisy market and time to go on offense. Aspire must get in front of and stay in front of high-value talent to fuel growing companies in the advanced industry supersector."
Aspire partnered with Festival Country on the campaign because of the two organizations' similar goals. Festival Country seeks to attract visitors, explained Executive Director Ken Kosky, while Aspire recruits businesses, workers and residents. "We felt that if we worked together, we could forge a campaign to attract members of all of these groups at once."
"The campaign was very successful," Kosky said. "We targeted people who came for Home-A-Rama and we targeted workers wanting to locate in Johnson County. We had lots of people looking at the Aspire job listing and the Festival Country website. They were definitely doing that during the campaign."
What has Festival Country learned from the campaign? "Both organizations can do together what neither can do alone," Kosky observed. "We believe we'll be collaborating on such advertising projects going forward. We've seen economic and tourism organizations working together successfully elsewhere." Festival Country and Aspire share a visitor center in Franklin, so we can work closely together on common goals.
Kosky noted that ads run by both organizations in the NCAA program earlier this year encouraged attendees to come down to Johnson County for dining and attractions, focusing on its proximity – just 20 minutes – to Indianapolis.
Tourism played an important role in the campaign. "Many years ago," Kosky explained, "it was enough for an economic development effort to have land or buildings available. Now, companies need to attract workers to a place where they would like to live. That's where tourism comes in, offering attractions for workers and their families. Quality of life is something all economic development agencies just now are starting to talk about, and yet Aspire has touted this for some time."
Kosky concluded by noting that the most important job for a tourism agency is to tell about the ultimate destination. "It's a job we do very well. We're constantly updating our website and printed materials to offer the most current and exciting information to visitors, residents and companies."