Franciscan Health Indianapolis is only Indiana hospital to be named one of America's 250 Best Hospitals for 2023 by Healthgrades.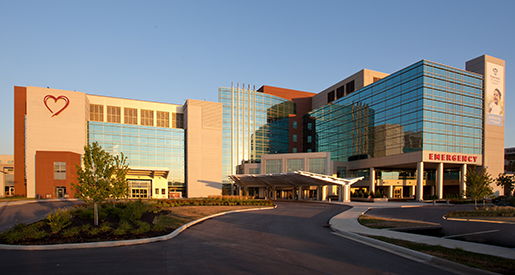 Distinction places hospital in top 5% nationwide for overall clinical performance

Franciscan Health Indianapolis today announced that it is one of America's 250 Best Hospitals for 2023, according to new research released by Healthgrades, the leading marketplace connecting doctors and patients. This achievement puts Franciscan Health Indianapolis in the top 5% of hospitals nationwide for overall clinical performance across the most common conditions and procedures. Franciscan Health Indianapolis is the only hospital in Indiana to receive this distinction in 2023.

"I'm delighted in this significant recognition, which places Franciscan Health Indianapolis among the elite healthcare organizations across the country," said Franciscan Health Indianapolis President and CEO Lori Price. "Our commitment to providing compassionate care in our Franciscan tradition has created a culture centered on our patients' needs, resulting in better outcomes, which bears out in this award from Healthgrades."
Healthgrades evaluated patient mortality and complication rates for 31 of the most common conditions and procedures at nearly 4,500 hospitals across the country to identify the top-performing hospitals. This year's analysis revealed significant variation between America's Best 250 Hospitals and hospitals that did not receive the distinction. In fact, if all hospitals performed similarly to America's 250 Best, over 160,000 lives could have been saved.* For example: Patients treated at one of the 2023 America's 250 Best Hospitals have, on average, a 28.7% lower risk of dying than if they were treated at a hospital that did not receive the America's 250 Best Hospitals award.*
In addition to being recognized as One of America's 250 Best Hospitals, Franciscan Health Indianapolis has also been recognized as One of Healthgrades America's 100 Best Hospitals for Stroke Care™ for 2 Years in a Row (2022-2023), One of Healthgrades America's 100 Best Hospitals for Pulmonary Care™ in 2023, One of Healthgrades America's 50 Best Hospitals for Vascular Surgery™ for 4 Years in a Row (2020-2023), and One of Healthgrades America's 100 Best Hospitals for Gastrointestinal Care™ in 2023.
Franciscan Health Indianapolis features the only full-service heart and vascular care program on the south side of Indianapolis. Earlier this year, the hospital introduced the Essenz™ Heart-Lung Machine, a device used during complex cardiac surgical procedures. The hospital has earned Get with the Guidelines Gold Plus Status for heart failure and stroke care; the Chest Pain – MI Registry Gold Performance Achievement Award; and the American Association of Critical-care Nurses Beacon Award for nursing excellence.
Franciscan's Gold Status from the International Cardio-oncology Society Center of Excellence highlights the hospital's specialized work in cardio-oncology. In the area of cancer care, Franciscan Health holds FACT (Foundation for the Accreditation of Cellular Therapy) accreditation, the threshold for excellence in cellular therapy including blood and marrow or cord blood transplant, along with accreditation from the Commission on Cancer, National Accreditation Program for Breast Centers and National Accreditation Program for Rectal Cancers, accrediting bodies focused on setting standards for high-quality care for cancer patients.
"We're proud to recognize Franciscan Health Indianapolis as one of America's 250 Best Hospitals for 2023," said Brad Bowman MD, Chief Medical Officer and Head of Data Science at Healthgrades. "As one of America's 250 Best Hospitals, Franciscan Health Indianapolis consistently delivers better-than-expected outcomes for the patients in their community and is setting a high national standard for clinical excellence."
Franciscan Health Indianapolis Vice President of Medical Affairs Christopher Doehring, MD, said, "Our designation as one of America's 250 Best Hospitals is a testament to the collaborative work done by physicians, nurses and staff members through the challenges of the COVID-19 pandemic. We could not be prouder of their efforts and their ongoing commitment to the highest standards for our patients."
Visit Healthgrades.com/quality/americas-best-hospitals for an in-depth look at Franciscan Health Indianapolis's performance and profile to explore the highest quality care in Indianapolis today. Consumers can also visit Healthgrades.com for more information on how Healthgrades measures hospital quality, and access the complete methodology here. A patient-friendly overview of the complete methodology is available here.
*Statistics are based on Healthgrades analysis of MedPAR data for years 2019 through 2021 and represent three-year estimates for Medicare patients only.
About Franciscan Alliance
The Franciscan Alliance healthcare ministry began in Lafayette, Ind., in 1875. Today, Franciscan Alliance is one of the largest Catholic health care systems in the Midwest with 11 hospital campuses, more than 19,000 employees and a number of nationally recognized Centers of Health Care Excellence. Hospitals include: Franciscan Health Carmel; Franciscan Health Crawfordsville; Franciscan Health Crown Point; Franciscan Health Dyer; Franciscan Health Indianapolis; Franciscan Health Lafayette; Franciscan Health Michigan City; Franciscan Health Mooresville; Franciscan Health Munster; Franciscan Health Olympia Fields (IL); and Franciscan Health Rensselaer.
About Healthgrades
Healthgrades is dedicated to empowering stronger and more meaningful connections between patients and their healthcare providers. As the #1 platform for finding a doctor and a leader in healthcare transparency, we help millions of consumers each month find and schedule appointments with their healthcare professional of choice and prepare for their appointments with best-in-class, treatment-focused content.
Our health system, large group practice, and life sciences marketing solutions have been helping our partners reach and engage consumers who are on their way to the doctor for over 20 years.
Healthgrades is part of RVO Health, a partnership between Red Ventures and Optum, part of UnitedHealth Group. RVO Health has the largest consumer health and wellness audience online across its brand portfolio including Healthgrades, Healthline, Medical News Today, Greatist, Psych Central, Bezzy and Platejoy which touch every part of the health and wellness journey. Each month, RVO Health helps more than 100 million unique visitors live their strongest and healthiest lives.