Franklin College Selected as Host Site of Prestigious Indianapolis Prize Lecture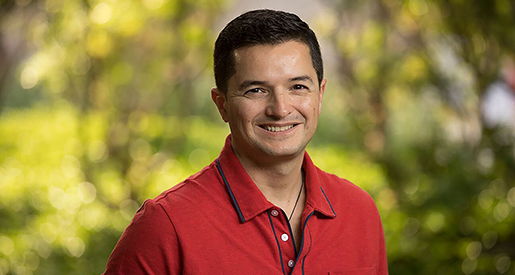 Franklin College will host one of the few lectures scheduled across the country as part of the Indianapolis Prize Lecture Series presented by the Indianapolis Zoological Society, Inc., on Tuesday, Oct. 3 at 7 p.m. in the Branigin Room of the Napolitan Student Center.
The lecture, "Saving Species: My Life & Work Protecting Penguins," will be presented by Dr. Pablo Borboroglu, the 2023 Indianapolis Prize Winner. Borboroglu will recount his lifelong journey to save penguins. He will share the challenges of conservation work, from protecting 32 million acres of ocean and coastal habitat to co-founding the Global Penguin Society, an international conservation coalition for the world's penguin species. He will discuss the risks he took to save penguins in some of nature's wildest places.
Borboroglu is a protector of ocean and coastal habitats for penguins in several countries including Argentina. He works to improve penguin colony management through the creation of large, protected areas, including 32 million acres of ocean and coastal habitat. He is the founder and leader of the Global Penguin Society, an international conservation coalition for the world's penguin species.
Borboroglu is the co-founder and co-chair of the International Union for Conservation of Nature's Penguin Specialist Group, which helps to assess the conservation status and advance international penguin conservation action. In the same year that he founded Global Penguin Society, he discovered six breeding pairs of penguins at the El Pedral colony on the eastern cost of Argentina. After successfully designating that area as a wildlife refuge and reducing human impacts, the area is now home to 4,000 breeding pairs of penguins.
Borboroglu also led efforts to create "Blue Patagonia" – a UNESCO Biosphere Reserve – which protects 40 percent of the global population of Magellanic penguins and the most biodiverse area of Argentina. Home to 67 species of animals, more than 120 species of birds and nearly 200 species of marine invertebrates, this is Argentina's largest UNESCO Biosphere Reserve, encompassing 200 miles of coastline and 7.6 million acres of land and ocean. In total, Borboroglu has coordinated the development of management plans for eight protected areas since 1998 in Chile and Argentina.
He is also dedicated to educating the next generation. His Global Penguin Society program has reached more than 200,000 students and community members across Latin American nations. Efforts include leading field visits for 7,000 students who live near penguin colonies as well as the creation of free books and educational material.
The Indianapolis Prize is the world's leading animal conservation award. First awarded in 2006, it is given every other year to an individual who has made extraordinary contributions to wildlife conservation. Established to bring the world's attention to their victories, the Prize elevates the brave, talented and dedicated men and women who spend their lives saving the Earth's wildlife.
The lecture is free, but registration https://alumni.franklincollege.edu/e/convocation-lecture-series-saving-species is appreciated.
Visit IndianapolisPrize.org to learn more about the Indianapolis Prize initiative, Prize Winner Dr. Pablo Borboroglu, and the upcoming gala.
For more information about the lecture, contact the Franklin College Office of Communications at (317) 738-8185.
Founded in 1834, Franklin College is a residential liberal arts and sciences institution located 20 minutes south of Indianapolis. Franklin offers a wide array of undergraduate majors as well as master's degree programs in Physician Assistant Studies and Athletic Training. The unique curriculum merges classroom instruction with immersive experiences, research opportunities and study away programs. Students participate in 21 NCAA Division III sports, esports, Greek life, musical and theatre productions and more than 40 student organizations. As the first college in Indiana to become coeducational with the admission of women, Franklin welcomes diversity of thought, belief and person into a community that values equity and inclusion. Franklin College maintains a voluntary association with the American Baptist Churches USA. For more information, visit www.FranklinCollege.edu. Find Franklin College on , follow @FranklinCollege on X, formerly known as Twitter, and watch FranklinCollegeGrizzlies on TikTok.