Girls Inc. Releases 'Girls Take the Lead' Report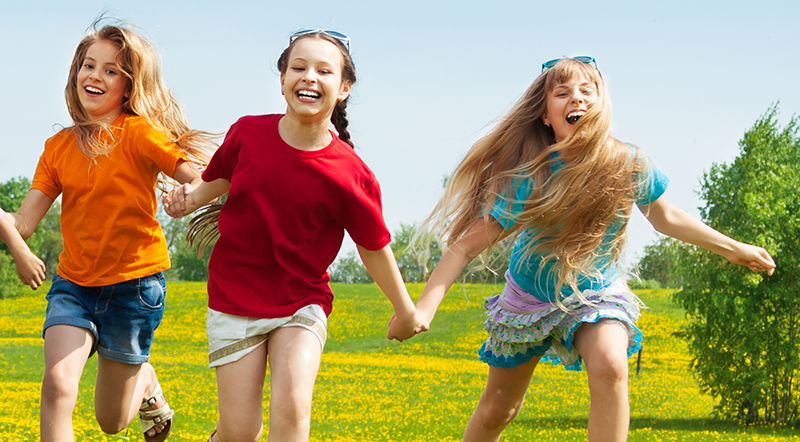 NEW YORK - Girls Inc., the leading nonprofit that inspires all girls to be strong, smart, and bold, today released Stronger, Smarter, Bolder: Girls Take the Lead, a report on what is needed to ensure girls are prepared to succeed in leadership roles in business, politics, and their communities. The report presents both a wide-ranging analysis of the latest research on the primary factors shaping girls' lives today, and recommendations for the most crucial supports communities should focus on for girls. In a new study by the American Institutes for Research (AIR), girls who receive the supports offered by Girls Inc. have a significant advantage over their peers who do not.
While there are more women today in key leadership positions than ever before, there still exists a pervasive gender gap in top leadership. Stronger, Smarter, Bolder: Girls Take the Lead outlines four fundamental supports that Girls Inc. has determined are universally beneficial to girls and create the conditions for girls to overcome systemic societal challenges and become strong leaders: providing mentoring relationships, encouraging girls to develop and use their voices, promoting positive self-image, and fostering intellectual confidence.
These supports help girls navigate and overcome the multifaceted, interconnected, and persistent barriers they face. The report highlights some of the most recent and significant research on girls, pointing to eleven key factors that shape their lives. The report presents a comprehensive, holistic view of the landscape in which girls in both the U.S. and Canada are growing up. The following factors are examined: physical activity, mental health, substance use, teen pregnancy, educational achievement, STEM experiences, graduation rates, juvenile justice, healthy relationships—encompassing harassment and sexual abuse, and leadership opportunities.
"The research shows us that Girls Inc. is making progress on some of the toughest issues girls face—but all of us working in this field still have room to improve, especially in our work with girls of color, LBGTQ+ girls, and low-income girls. All girls deserve equity of access to wellbeing and opportunity, and we have to see the whole girl, in her context and community. That's what Girls Inc. has always done, and we believe that's a key to the success we've achieved," said Stephanie J. Hull, Ph.D., President & CEO of Girls Inc.
Recently, the American Institutes for Research completed a study designed to isolate and identify the impact of Girls Inc. on girls' lives. The evaluation was a two-year, quasi-experimental research study that compared girls in Girls Inc. with a similar group of non-participating girls on subjective self-report measures of experiences, skills, and attitudes, and on objective measures from schools on academic and school-based performance. Researchers determined with confidence that regardless of demographic, academic, and social characteristics, girls who participated in Girls Inc. were outpacing their peers in multiple areas of success and were more likely to:
See themselves as leaders, with the skills and capabilities to influence and improve their local communities.
Exercise regularly and participate in sports teams.
Have higher standardized math test scores and self-confidence in STEM subjects, and see themselves in STEM careers.
Be engaged in and attend school, avoid serious disciplinary action including being suspended, and be prepared for life after high school.
"In a rigorous comparison study, we found that girls who participate in the Girls Inc. Experience demonstrated improved academic performance, school-related behaviors, physical activity, and leadership outcomes," said Dr. Deborah Moroney, Managing Director of the American Institutes for Research, a not-for-profit research organization with best-in-class experts focused on social science research, evaluation, and technical assistance.
"The future success of our global economy relies on girls having access to the education and resources they need for careers and leadership roles in finance, economics and technology," said Arlene Isaacs-Lowe, Global Head of CSR at Moody's Corporation and President of the Moody's Foundation. "As a longtime partner of Girls Inc., we've had wonderful opportunities to host many groups of girls in our offices and introduce them to the fundamentals of data science and the tech industry. The impact on these girls has been tremendous—when girls are given the opportunities to reach their full potential, all of society benefits."
"We are so grateful to AIR for completing this comparison study and providing evidence that Girls Inc. programs make a significant long-term impact on girls' holistic development. Girls Inc. changes girls' lives leaving a lasting imprint into adulthood," Sonya Ware-Meguiar, CEO, Girls Inc. of Johnson County.
"When I was an elementary principal, I was very pleased that many of the girls attended Girls Inc. after school. I knew they were in a safe, nurturing environment where self-esteem was encouraged with the vision that they become healthy, educated, and independent. Girls Inc. is a tremendous asset to Johnson County in general and to the Franklin community in particular," Harriet Henry, former principal Creekside Elementary School.
"Girls Inc. helps girls appreciate their potential and most importantly, know their worth. It starts at the magical beginning: by exposing them to new ideas, experiences and committed mentors. It gives them the space and encouragement to dream whole worlds of possibility and provides the essential, loving support needed to realize their dreams. By investing in these girls, we as a community are investing in a better world of equality for all," Dr. Mary Ellen Lennon, Girls Inc. of Johnson County 2019 Woman of the Year.