Hirons Hires New Senior Vice President
We are excited to share that Hirons has welcomed Sheila Smiley as senior vice president, media and digital. Rose Durbin, senior vice president and our long-time media director, will continue in a consultant role.
Sheila is an expert digital marketer with more than 20 years of experience leading strategic marketing campaigns from both the client and agency sides. She spent several years as a media supervisor at Hirons and other Midwest agencies before spending ten years leading strategic digital and traditional marketing campaigns for the Midwest Technical Institute and Delta Technical College.
"Sheila's varied experiences have taught her how to navigate the nuanced relationships between agencies and clients," says Rose. "She's been through the procurement process and managed various-sized budgets from both sides, which will benefit our clients and partners greatly. I am confident our team is in good hands."
As many of you know, Rose oversaw paid media and digital services for all Hirons accounts in her role as media director. Her extensive knowledge of complex industries – including health care, financial services, retail, media properties and hospitality – have significantly aided the development and execution of Hirons' strategic traditional and digital media campaigns.
"This is certainly a bittersweet transition for us," says CEO Jim Parham. "Rose has played an integral role in the expansion of our media and digital team over the last decade. This succession allows us to provide clients with Sheila's extensive expertise while maintaining Rose's counsel."
Sheila earned a bachelor's in advertising and business from the University of West Florida and holds a professional certificate in digital media and advertising from Duke University. For more information on Sheila's background, please visit hirons.com/insights.
For information about current career opportunities, visit hirons.com/careers.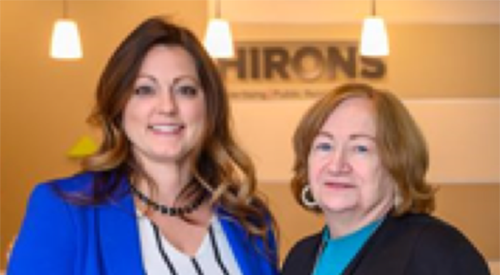 Sheila Smiley and Rose Durbin