Legislative Update Week 4: : Committee Deadline Week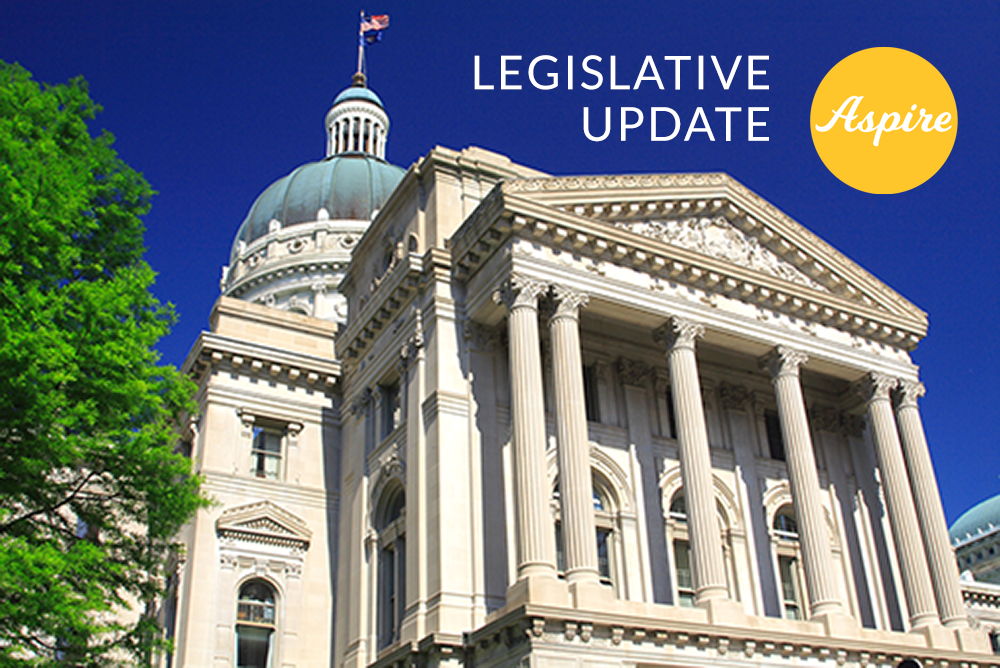 Deadline Week is Here!
The House of Representatives reached its second reading deadline. This means any piece of legislation that hasn't crossed the desk of its originating Chamber for a second time for potential amendment is considered "dead" for the session. Similarly, the Senate has reached its committee report deadline. Any bill that had not yet been heard in committee is also considered "dead" for the session. The Senate has its second reading deadline on Monday, February 3; the third reading deadline is this Monday in the House and this Tuesday in the Senate. More deadline dates are below.
Aspire Johnson County Priority Issue Updates
SB 350 Regional Development by Senators Travis Holdman (R-Markle) and Erin Houchin (R-Salem) was heard in Senate Tax and Fiscal Policy Committee this week. Aspire Johnson County testified in support of the bill, along with OneZone and the Indy Chamber, as a show of solidarity for the central Indiana region. The bill originally created a revenue-raising 'investment hub' structure allowing Hoosier regions to identify and invest in transformative economic development projects - following the legacy of the Regional Cities program. As expected, the bill was significantly amended to make this a pilot program for Central Indiana only.
The new version, which passed committee, creates a Central Indiana pilot that elevates our Regional Development Authority and codifies an independent Metropolitan Planning Organization (MPO) to work together on a comprehensive economic development strategy that includes talent and quality of life initiatives, long-term infrastructure and transportation planning and other competing priorities. It is hoped that some more "meat" can be added back to the bill in the second half.
In regards to workforce development, HB 1153 directs the Governor's Workforce Cabinet (developed two sessions ago) to undertake a comprehensive plan to align the state's primary, secondary, post-secondary and workforce systems with employer needs. This is imperative to help businesses across the state have a strong talent pool from which to draw from. The bill was not amended but passed the full house by a vote of 96-1. It now heads to the Senate for further consideration.
Pregnancy Accommodations Bill Advances
One of Governor Holcomb's legislative priorities announced during his State of the State is accommodations for pregnant women in the workplace. SB 342, authored by Sen. Ron Alting (R-Lafayette), would make Indiana the 28th state in the nation to have such a law in place. The legislation states that Hoosier businesses would be required to make accommodations for their pregnant workers, including allowing pregnant employees to take longer breaks, transferring to less physical work, and take unpaid time off after birth. This bill, if enacted, would apply to businesses with more than 15 employees.
The legislation passed out of the Senate Family and Children Services Committee by a vote of 7-2, despite some concerns raised by some business groups that this could place undue burdens on small business owners. Federal laws already require larger businesses to provide such accommodations.
More Retirements Announced
It was announced this week that the longest-serving member of the House of Representatives, Rep. Patrick Bauer (D-South Bend), would be retiring after 50 years of service. The former Speaker of the House from 2003-2004 and 2007-2010 and former Ways and Means Chairman has served since 1970. His daughter, Maureen, has filed to run for his seat. Should she win, she will be the third-generation Bauer to hold the seat, as her grandfather (Patrick's father) also held the seat.
In addition, State Representative Karlee Macer (D-Speedway) announced she would not be seeking another term this week. Rep. Macer announced earlier this summer that she was considering running for Governor in 2020 but decided ultimately not to take the plunge in August.
Upcoming Committees
Committees are complete for the first half of the 2020 Legislative Session.
Important Upcoming Dates
Monday, February 3 – House Third Reading Deadline, Senate Second Reading Deadline
Tuesday, February 4 – Senate Third Reading Deadline