Legislative Update: 1,162 Bills Filed After Week Two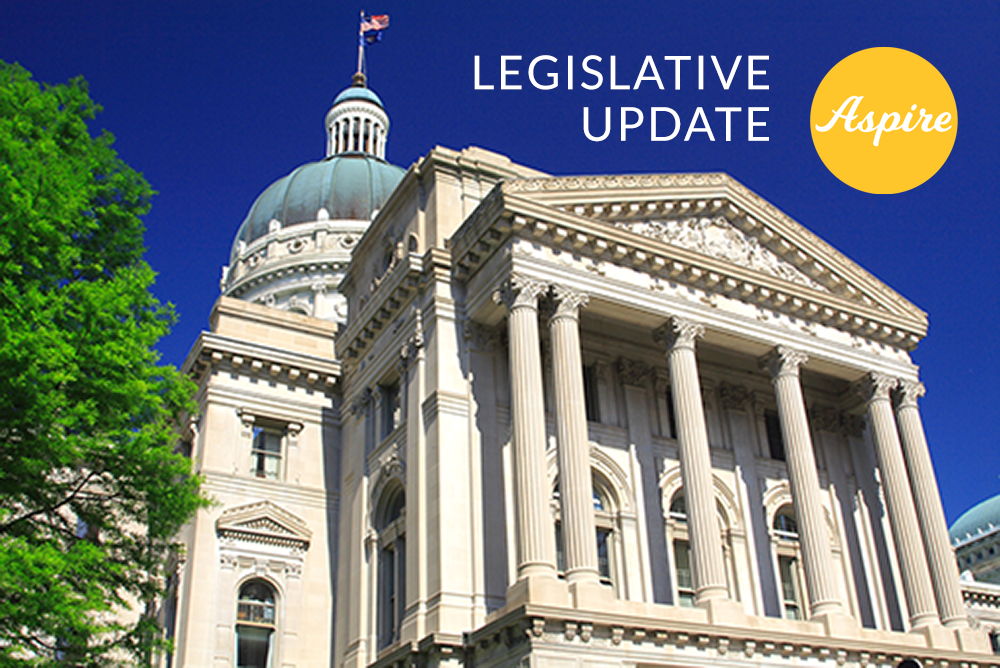 Week two wrapped up at the statehouse last week. 1,162 bills have been released (over 400 last week alone). We anticipate that all House and Senate bills have now been made public. While we have a better view of the landscape for this session, we have yet to see which bills will move through the policy process. Statistically, about a third of the bills will not make it past half-time. Third reading deadlines for the House and Senate will occur the last week of February.
Legislative hearings and committee work kicked into high gear last week. The House Committee on Ways and Means continues to push forward with budget requests, and in the Senate, highly anticipated language around bail set off robust committee discussion.
The Indiana Economic Development Corporation was first to present to the House Committee on Ways and Means last week. Their requested additional monies include $150 for a revolving Site Acquisition Fund, a $300 million Deal Closing Fund, and another round of Regional Economic Acceleration and Development Initiative (READI) grants. Through the last $500-million round of READI funds, the IEDC received $1.5 billion in requests across 800 projects. Aspire has proudly helped lead the 180 Alliance Region which includes Johnson County during this initial READI round.
The Indiana Department of Education also proposed how the state should fund educational programming across the state. Dr. Katie Jenner, Secretary of Education, discussed future plans of refocusing K-12 education in three different areas: student experience, teacher support and various administrative reinforcements.
One key area of focus was literacy and allowing for earlier introductions of IREAD assessments. Jenner noted that 1 in 5 Hoosier children leave third grade without having foundational reading skills. Requests for budget increases also included funds for tuition, literacy aid, and special education.
Child Care / Early Childhood Education
As we reported last week, Senator Kyle Walker's childcare tax credit bill, SB186, establishes a state tax credit for a taxpayer that makes qualified child care expenditures or qualified child care resource and referral expenditures in providing child care to the taxpayer's employees.
Senator Stacey Donato has a similar bill, SB368, that creates a cost-sharing pilot program for child care and education that splits the cost three ways between the employer, employee and state. It's a creative and effective model we have seen work in other states. The price tag for just the Northeast Indiana pilot area is $11 million, so expanding it statewide might be cost-prohibitive and squelch early momentum for the pilot.
And SB471 establishes a nonrefundable tax credit for an employer with 25 or fewer employees that makes contributions of at least $10,000 during the calendar year toward a qualified employee's cost for a qualified preschool program.
Housing
Also as reported last week, HB1005 is an omnibus housing bill and includes many of the recommendations from last summer's Housing Taskforce final report, including a new revolving loan fund for local government to help them deploy infrastructure for new housing developments. This would be especially helpful for rural communities and any community with a strategic site identified for housing, especially a site that might be a little hairy. Aspire supports this bill.
Free Enterprise / Business Autonomy
Aspire supports the loosening of red tape, limiting unnecessary or duplicative regulation, and reduction of government interference to ensure that businesses across the state can operate freely and efficiently. We don't like the trend we have seen over the last couple of years to influence business operations. Notably, the bills have come from Republican legislators, marking a shift from the small-government and free-market platform that has served the Hoosier State well.
We have identified several bills that seek to insert the heavy hand of government into private business dealings and are monitoring them closely. None are scheduled for committee hearings, and we are actively working to keep it that way. We know our business leaders are already dealing with inflationary pressures, supply chain clogs, and labor availability challenges. Aspire will block and tackle unnecessary government legislation to let you run your business.
We met with five members of the Johnson County legislative delegation last week and had productive meetings about our top issues and more. We were especially grateful that freshman Representative Craig Haggard was particularly supportive of our free market position. Similarly, we were sure to thank Senate Pro Temp Rod Bray for his leadership in the Senate when anti-free-market bills moved from of the House.