Member Expert: Dynamic Music Services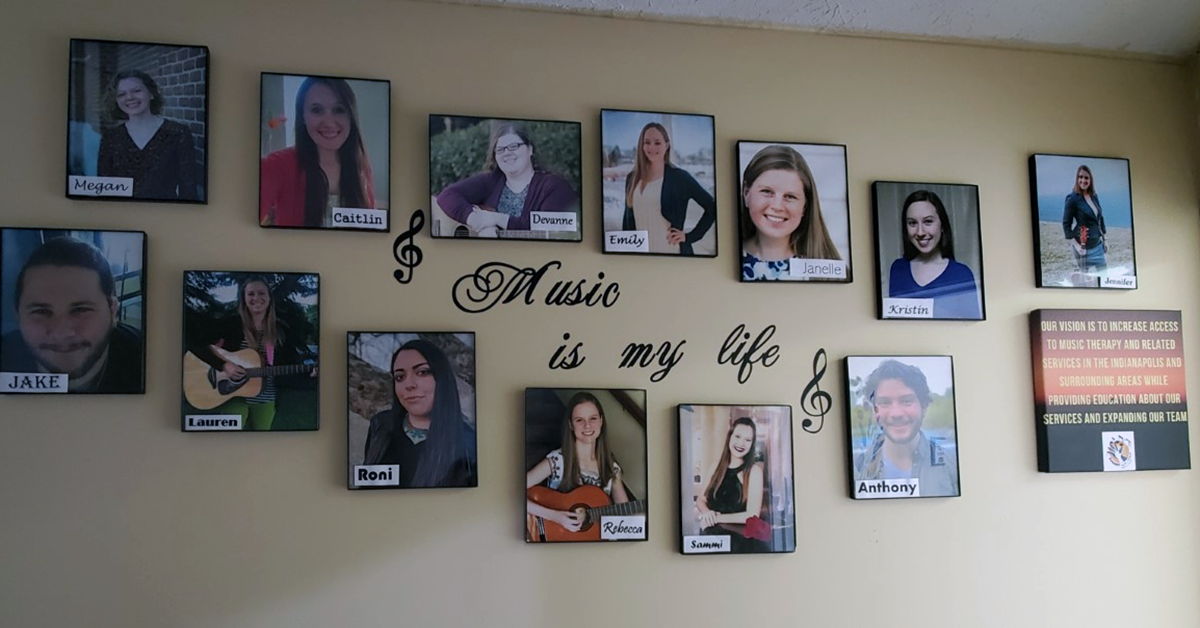 Dynamic Music Services INC was founded in May of 2014 by Jennifer Pinson and started with only one therapist and has grown to a team of 13 Music Therapists-Board Certified. We serve Marion County and the surrounding counties. Marion, Johnson and Hendricks are our largest counties served. We currently have three music therapy interns from different universities. Our interns typically work with us for six months and train to strengthen their clinical and musical skills prior to being eligible to sit for their board exams.
According to the American Music Therapy Association, the definition of music therapy is "an established health profession in which music is used within a therapeutic relationship to address physical, emotional, cognitive, and social needs of individuals. After assessing the strengths and needs of each client, the qualified music therapist provides the indicated treatment including creating, singing, moving to, and/or listening to music. Through musical involvement in the therapeutic context, clients' abilities are strengthened and transferred to other areas of their lives. Music therapy also provides avenues for communication that can be helpful to those who find it difficult to express themselves in words. Research in music therapy supports its effectiveness in many areas such as, overall physical rehabilitation and facilitating movement, increasing people's motivation to become engaged in their treatment, providing emotional support for clients and their families, and providing an outlet for expression of feelings."
Who: We work with a variety of clientele, primarily serving individuals who receive the Family Supports Waiver (FSW) and Community Integration Habilitation Waiver (CIH). These individuals include those with Autism, Down Syndrome, Cerebral Palsy, and other neurologic diagnoses or disabilities. We additionally work with older adults in Skilled Nursing Facilities, Assisted Living, Secured Units, and Hospice. DMS can also be found in psych units, schools, client homes, daycares, hospitals, ABA, and more.
What: Music Therapy is the use of music to work on non-musical skills. We - alongside physical therapists, occupational therapists, recreational therapist, behavior consultants, and other professionals on treatment teams - help clients meet their goals. Goals can include increasing motor skills, communication, social skills, cognitive skills and emotional regulation. We establish clinical goals and objectives based on the client's needs and use evidence-based data to support our work.
Where: Our office is located at 7502 Madison Avenue, Indianapolis, IN. 46227 where we see clients. We offer community and home-based services. DMS provides services in the greater Indianapolis area. In Johnson County, we are serving individuals in Greenwood, Whiteland, and Franklin.
When: Our therapists work Monday-Friday, and we schedule based on the needs of each client or community partnership. We also see client's afterschool and during the workday.
HOW: We use person-centered planning to meet our clients where they are, including utilizing patient-preferred music and tailoring each session to the individual. Our therapists know the music for people of all ages, and we tend to prefer using live music when possible. We use documentation to support progress, and we report on our data regularly. As music therapists, we do recertify on a 5-year basis and are required to engage in 100 hours of continuing education during that time. This helps assure that we are up to date on the last research and best practices available.