Member Profile: Schumacher Homes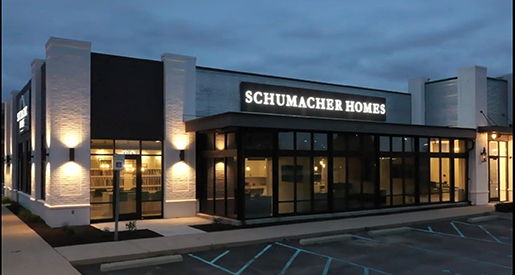 Schumacher Homes is the nation's largest custom homebuilder. Over the last 30 years, we have built over 20,000 custom homes across the eastern half of the country. We are a true on-your-lot custom homebuilder, with locations in 26 different markets. We are a proud recipient of the National Housing Quality Award, which has only been given out to less than 100 homebuilders nationwide in its existence. We use our national buying power to build affordably using major brands like Delta, Kohler, Daltile, Mohawk, Mannington, Wayne Dalton, Schlage, and Lennox, just to name a few. We are a family-owned company focused on building with the utmost quality, one house at a time.

Locally, we serve Marion and all 8 surrounding counties. We pride ourselves on our included features, such as stick wall framing with 2x6 exterior walls and R-19 insulation, 100% OSB sheathing on all exterior walls, and unfinished basements included with every floorplan we build. Our finishes include LVT flooring, granite kitchen tops, and quartz bathroom tops. We have 100 floorplans to choose from on our website ranging from $180,000 to $1.3 million. We also offer several financing options through Schumacher Mortgage, with incentives for every loan including a free rate lock guarantee and a no-cost refinance within the first 5 years of the loan.
Our Design Studio is a one-stop shop for the entire process. Come in and visit for a free quote, and within 2 weeks of moving forward with us you will be back to make your design selections. We have samples of all the materials that will be used in and on your home available to see, touch, and feel. Once your quote is complete it will not change, although you can make as many changes as you want without fees up until the pre-construction meeting, which happens within the first 30 days. After the pre-construction meeting is completed the price of the home is locked in and will never change, and construction will begin in about another 45 days. During this time financing is secured and permitting and estimating are completed. We guarantee a build time of 195 days from completion of foundation for homes up to 3,500 square feet. All of our homes are backed by a 1-year warranty and a 10-year insured, transferrable structural warranty.
For more information on Schumacher Homes or to schedule your no-obligation quote, visit our website for the Indianapolis location at www.schumacherhomes.com/where-we-build/indianapolis. Check our Location Events page periodically for Construction Open House and Meet-The-Builder events. Create an account and you can take advantage of our Welcome Mat tool, which allows you to select a floorplan and elevation, and add options, upgrades, and certain color selections while keeping tally of the estimated price range of the home. It's a great way to do your homework before coming in for your free quote, which will be pushed to your account after your visit!
Bryan Conner | General Manager
t:317-202-1387