Member Profile: Uplift Johnson County – A Local Non-Profit Serving Others in Need Right Here in Our Community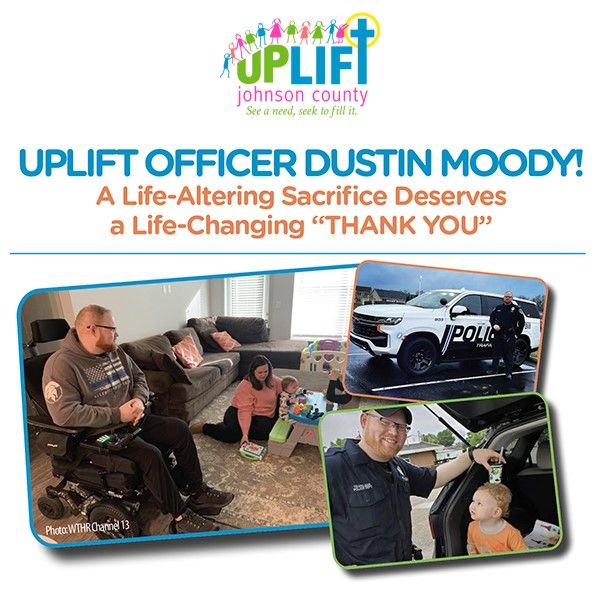 Uplift Johnson County is a 501c3 non-profit service organization founded on the principle of "See a need, seek to fill it". Uplift gives everyday people an opportunity to serve others by identifying needs and calling on our community to help us to fill them through giving and volunteering. Its founder and executive director, Wendy McClellan, is a lifelong resident of Johnson County who is a mortgage banker and Realtor by profession and founded Uplift in order to give back to a community who has blessed her greatly.
Uplift partners with other non-profits, businesses, civic organizations, church groups, and individuals to coordinate fundraising activities and service projects, as well as looks for small ways to bless people in our community throughout the year.
Some of the recent Uplift initiatives include Warriors Day Out, a day of pampering where 60 breast cancer survivors and fighters and a guest were treated to massage, yoga, facials, haircuts, makeup and nail applications, live music, and a catered lunch at the Sycamore at Mallow Run; a fundraiser to bless the families of the victims the Greenwood Park Mall shooting with donations totaling almost $15,000; a diaper drive for the babies housed at camp Atterbury, and providing the funds and labor to assist with the buildout of a much needed new space for Resources of Hope, a non-profit serving foster families.
Annual holiday events for those in need include a Holiday Food Drive to feed families serviced by Firefly Children and Family Services over the 10-day holiday break from school, a Virtual Giving Tree to buy Christmas presents for children identified by local school counselors as being in need, and a Seniors Gift Drive partnering with Johnson County Senior Services to bless senior citizens who are in poverty, at risk, or alone at Christmas with presents including hats, gloves, pajamas, blankets, personal care items, sweets and coffees gift cards for medicine and more.
Groups or individuals who wish to volunteer or partner financially with Uplift Johnson County can contact us by visiting Upliftjoco.org, via email at info@upliftjoco.org, or by calling 317-300-8855.
UPLIFT IS CURRENTLY PARTNERING WITH THE CENTRAL INDIANA POLICE FOUNDATION TO BLESS OFFICER DUSTIN MOODY, who was tragically paralyzed in a line-of-duty crash last June while trying to get an impaired driver off the road. Officer Moody has a wife, Emily, and two children aged 4 and 11 months who are seeking to return to life as a family while facing the challenges and limitations brought about by his disability. They are in desperate need of a handicap-accessible van as well as funds for expenses that Workman's Comp simply does not cover, such as Emily's lost income from being forced to leave her teaching position to care for Dustin and their boys. See his story at upliftjoco.org/donate