Owner of Ruth's Chris Opens New Bar in Downtown Indianapolis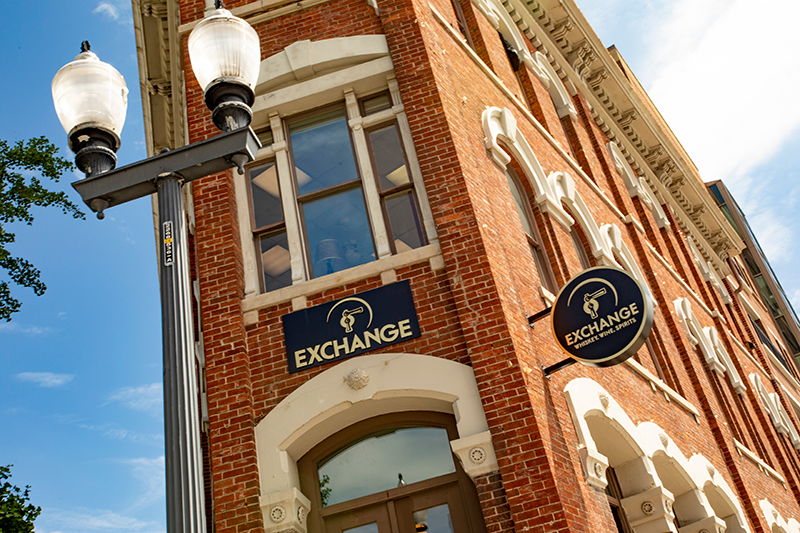 A new speakeasy-style bar, The Exchange Whiskey Bar, is now open to guests in downtown Indianapolis. It is the second location for The Exchange Whiskey Bar, which opened its first location in downtown South Bend in 2013.
Located in the historic Hammond Block building at 301 Massachusetts Avenue in downtown Indianapolis – one of Mass Ave's oldest original buildings – guests will gather to admire the establishment and ambiance just as much as the broad selection of more than 180 whiskeys and craft cocktails. Guests can enjoy a prohibition-style night out with vintage speakeasy cocktails based on authentic, era-inspired recipes.
The Exchange Whiskey Bar is owned and operated by Prime Hospitality Group, which also owns and operates seven Ruth's Chris Steak House locations.
"The Exchange Whiskey Bar brings a new atmosphere to Mass. Ave.," said Kristy Rans, owner and president of Prime Hospitality Group. "This isn't just a whiskey lover's destination; it's a place for anyone who wants to unwind in a speakeasy-style environment with a sophisticated cocktail menu and historic feel. We're proud to bring a vibe that's completely new to residents and guests downtown."
The Exchange Whiskey Bar occupies 3,200 square feet on the ground floor and basement of the Hammond Block building. Hours of operation are Monday-Thursday 4 pm - midnight, Friday and Saturday 4 pm-2 am, though the bar will temporarily close at midnight on weekends to adhere to city COVID-19 guidelines.
In addition to the large selection of whiskeys and cocktails, a menu of wine, beer, and a small selection of food items will be available. Guests will be able to snack on charcuterie plates, deviled eggs and house-made chips and dips. Whether guests are seeking a night out with friends or a glass of wine after a long week, The Exchange Whiskey Bar is the perfect location. The location is in a historic but popular part of town, making it the perfect fit within the community. Private rooms are also available for large parties with a full bar, food service and technology.
About Prime Hospitality Group, LLC
Prime Hospitality Group was founded by husband-and-wife team Kristy and Ryan Rans. As an attorney and expert in real estate development and restaurant concepts respectively, Kristy and Ryan became some of the first non-legacy Ruth's Chris Steak House franchise owners in the country, building a new generation of trust and quality into the Ruth's Chris family.
In 2018, the Prime family grew with the addition of Bin 23 Bistro, Wine Bar & Marketplace in Granger, Indiana, inspired by a love for sharing great food and wine with friends and neighbors. In 2020, both The Exchange Whiskey Bar in downtown Indianapolis and in South Bend joined the Prime family as a take on a prohibition-era bar.