Statehouse Report: Work Share Proposal Legislative History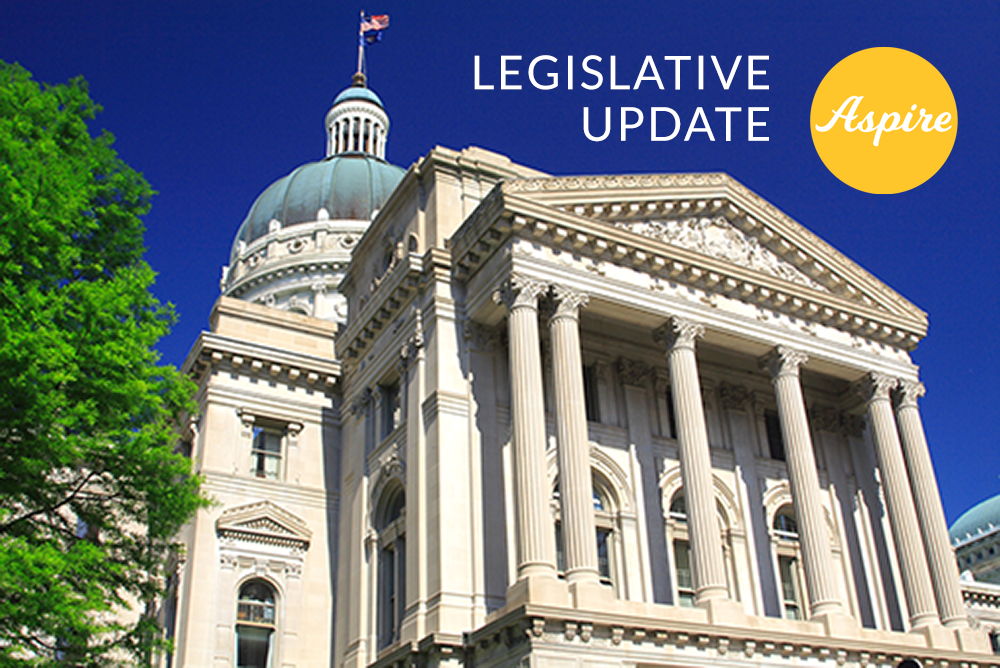 Legislative committee agendas have been packed with proposals as lawmakers race to move large pieces of priority language across the midpoint coming in two weeks. We love the progress on bills supporting our 2023 legislative priorities.
Many bills have already been referred to the opposite chamber. For example, SB 2 passed the Senate floor last week and is already scheduled for a hearing in the House Ways and Means Committee this week. Most committees will have no more than one or two meetings before the next deadline - February 21st and February 23rd for the House and Senate, respectively.
What will make it past the switchover and into the second half of the session? Time will tell, but we are seeing more bills have problems moving out of committees than in recent years.
Here is an update on some key bills Aspire is working. We will end with an update on an interesting bill about driving cards for immigrants.
Childcare Cost Relief Measure Advances
Of the five childcare / pre-k bills we are tracking, two have been heard in committee and Aspire has testified in support of each. There was much discussion among committee members about the complexity of Indiana's child care environment.
Under SB 375, the income eligibility threshold for grants under the On My Way Pre-K program would increase from 127% of the federal poverty level (just over $35,000 annually for a family of four), to 200% (or $55,500 annually). Additionally, families making up to 260% of the federal poverty level roughly $72,000 per year), would still qualify for at least 25% of the subsidy. This would alleviate a benefit "cliff" where parents become ineligible for funding when their income increases slightly. The bill passed out of committee unanimously and was reassigned to the Senate Appropriations committee due to its fiscal impact. As of this writing, Appropriation Committee meeting agendas were not yet published to identify which bills will be heard this week.
Also heard was SB186 which establishes a state tax credit for an employer making child care expenditures to help provide child care to employees. This bill was held in committee for future consideration and has not been rescheduled at this time.
Work Share Proposal Passes out of Senate Committee
For the first time in legislative history, a Work Share program bill passed out of committee. As Aspire has been reporting for a few years, this program would assist employers who provide for employees through a potential layoff period. Under SB 347, the affected employees would retain their key benefits, like insurance, but would only be paid a percentage of their regular wages. A portion of their wages cut would be covered by unemployment insurance. This bill now heads to Senate Appropriations for further consideration.
Housing Infrastructure Bill Gains Overwhelming Support
A bill to create a Residential Housing Infrastructure Assistance Program passed out of the House with overwhelming support on Tuesday. HB 1005 was crafted in response to a Housing Task Force that met this past summer and fall and would specifically pay for the vital infrastructure needs not otherwise considered in alternate grants or programs. The money could be used for sidewalks, curbs, sewers, water, and other infrastructure. The overall goal of the bill is to increase the state's housing supply. The bill passed 91-6 and now heads to the Senate.
Also on housing, SB 339, which establishes a tax credit for contributions to an affordable housing organization, was heard in committee last week and drew support for addressing the workforce housing crisis. The bill was held in committee and will be heard for potential changes and a vote this week.
Driving Card Legislation Advances to Appropriations
This week's final update is a bill we have not been tracking, but has picked up bipartisan along with support from business, immigrant advocates, and law enforcement around the state.
Driving cards for immigrants narrowly passed the Senate Homeland Security and Transportation Committee last week. Proponents argue this will help make roads safer and facilitate more reliable worker attendance. Under SB 248, drivers would have to show they pay taxes in Indiana, have proof of insurance, get fingerprinted and undergo a criminal background check, and renew the card every year. This driving card could not be used as identification for voting purposes and does not provide citizenship.