Statehouse Update: Education Spending and Mental Health Support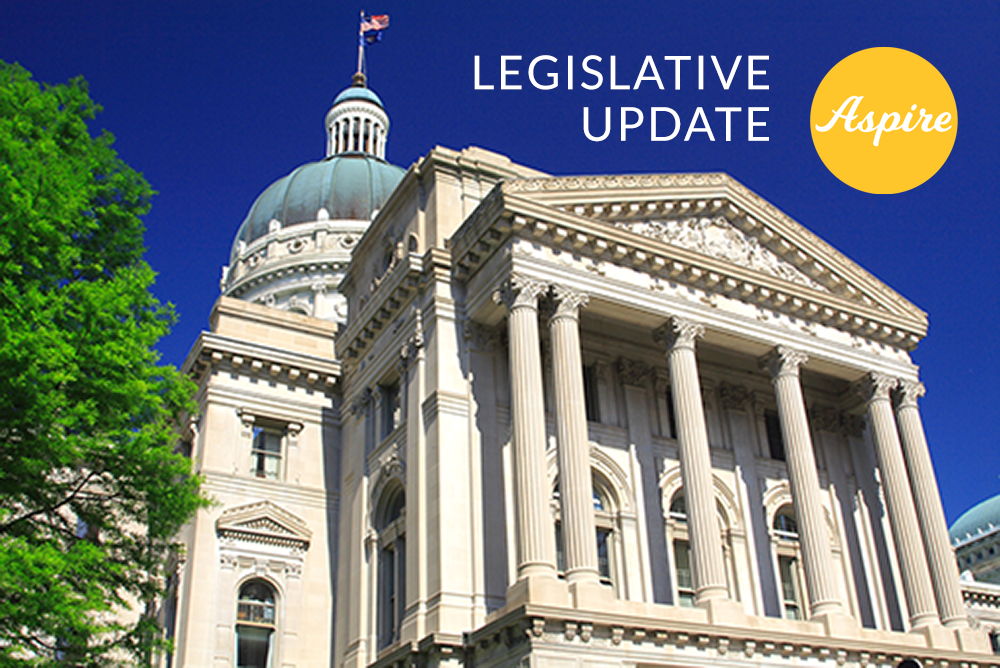 Lawmakers are deep into second half committee work with week 10 of the legislative session now in the books. Budget writers heard several proposals, including K-12 funding. And business groups from around Indiana, including Aspire, are rallying to support Republican's mental health bill.
Nearly Half of Budget Draft Allocated to K-12 Education
Last week Senate Appropriations heard from several state government entities. The Indiana Finance Authority kicked off the week and presented the state's debt overview, which can be found here. Several other state agencies, including the Indiana Department of Environmental Management, the Department of Workforce Development, and the Department of Education, presented their budget proposals.
In addition, the Senate School Funding Subcommittee of the Appropriations Committee held a hearing last week on K-12 education funding, English Language Learner (ELL) issues, and Special Education proposals with nearly 100 individuals signed up to testify. Nearly half – 48% – of the House Republican budget goes to K-12 education, which will get a boost of nearly $2 billion over its current appropriation. The Senate will likely unveil their version of the budget later this month, with the final budget expected in late April.
Talent is the currency of business. Hoosier businesses' best source of talent is home grown, and we are pleased to see the level of conversation about how best to fund education.
Community Support for Mental Health Crisis
We are also pleased to see a high level of conversation about mental health. House Republican mental health bill, HB 1006, creates a system and process in which local law enforcement could refer someone to a mental health facility for assessment and a court could require mandatory treatment. Advocates explain this may help redirect people from jails who need help, and only get worse inside prison.
Now more than ever, leaders embrace health and wellness as business success and community development strategies. It is important to recognize that mental health is a critical aspect of this strategy. Mental health issues within our workforce, homes, and especially in vulnerable populations create obstacles to achieving optimal success at work, school, and other areas.
The Indiana Behavioral Health Commission estimates the cost to the state's economy to be $4.2 billion a year, which includes $885 million in annual productivity losses and $556 million worth of caregiving provided by family members, often at the expense of their employment.
HB 1006 would enable communities to enhance its local mental health crisis response and ease the burden on law enforcement and jails. Aspire is in favor of policies that encourage the development and implementation of mental health support systems.
These and many other issues still loom large at the Statehouse. The first committee deadline of the second half of session is only three weeks away, which means many committee Chairs have likely laid out their agendas for the remainder of the year. The next few weeks will move quickly, and we are anticipating that more controversial legislation will be popping up as we approach deadlines. As always, Aspire and our team from Torchbearer Public Affairs will be following closely.