Suicide Prevention Webinar on November 17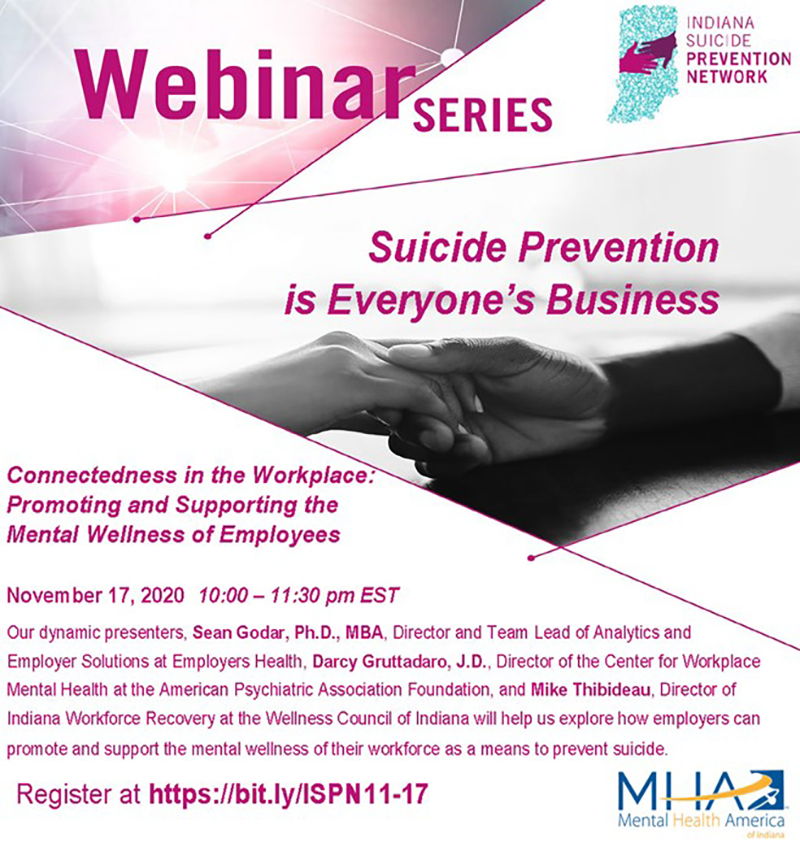 How does workplace connectedness affect suicide prevention efforts? Join the Indiana Suicide Prevention Network from 10 to 11:30 a.m. EST on November 17 as we explore how employers can promote and support the mental wellness of their workforce as a means to prevent suicide, as well as learn how to implement mental health and wellness tools in the workplace.
Featured speakers include:
• Sean Godar, Ph.D., MBA, Director and Team Lead of Analytics and Employer Solutions at Employers Health, a nonprofit professional benefits organization
• Darcy Gruttadaro, J.D., Director of the Center for Workplace Mental Health at the American Psychiatric Association Foundation
Together, Sean and Darcy provide leadership for Right Direction, a collaborative, high-impact, turnkey initiative designed to provide employers with tools and actionable strategies to raise awareness about depression and to improve workplace mental health for a happier, more engaged, and productive workplace.
• Mike Thibideau, Director of Indiana Workforce Recovery, a strategic partnership with Gov. Eric Holcomb and his administration to combat the opioid epidemic, and a program of the Wellness Council of Indiana
Established as a volunteer-based association in 1988 and acquired by the Indiana Chamber of Commerce in 2011, the Wellness Council of Indiana works to improve the quality of life for Indiana residents by empowering employers and communities to create thriving places to live, work, learn and play through connection, collaboration, education and evaluation.
We hope you'll register to join us and share this with the businesses and other interested individuals in your spheres of influence!