Fall Attractions for Employees and Visitors Help Spur Johnson County Economy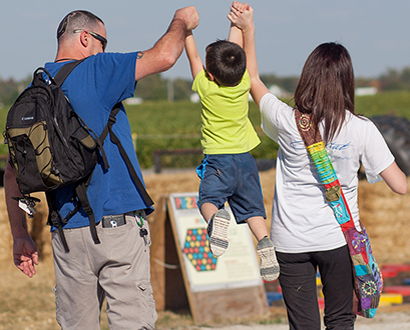 Employees taking time off, students on break, and people visiting Johnson County can take advantage of a wide variety attractions to fill their leisure time this fall. Local activities help relax and rejuvenate employees while providing customers for the special event, lodging and restaurant sectors.
"Johnson County is an up-and-coming tourist destination, especially in the fall when many of our local businesses host seasonal activities," observed Aspire Vice President of Investor Development and Relations Angela Vandersteen. "Families can easily plan memorable days that include visiting one of our many festivals or events, spending time at our parks and attractions, and eating at unique local restaurants. You don't have to travel far for a great fall getaway."
"Member investors sometimes ask how their employees can participate in and enjoy all that Johnson County has to offer," Vandersteen added. "Aspire plays an important role connecting members to available recreational opportunities for their employees, and autumn offers an abundant number of possibilities."
Aspire President and CEO Christian Maslowski noted that one of the goals of its 5-year Economic Development Strategic Plan is to embrace and pursue opportunities for enhanced livability and quality of life. "Aspire supports a variety of opportunities to be active," he noted. "Promoting ways to live, work and play in Johnson County is central to our approach. We strive for a better awareness of activities available and encourage travel to Johnson County. And we urge residents and businesses to help Johnson County businesses by staying local."
Tourism continues to be big business in Johnson County according to Executive Director Ken Kosky of Festival Country, the tourism brand so named for the hundreds of festivals and concerts held here annually. He cited an economic impact study conducted in 2018 capturing data on tax revenues and tourist spending as well as job and wage creation.
Kosky expects the economic impact of tourism to grow each year and with it, an even greater financial effect going forward. "The 2018 study probably will be updated in 2022," Kosky noted, "when we have the next 'normal' (non-pandemic) year for comparison of results."
"Hotel occupancy in Johnson County is up tremendously in 2021," Kosky noted, "outperforming other similar-sized counties in Indiana. We expect 2021 to be a record year for lodging in terms of both occupancy and revenue." Kosky attributes the performance to the way Festival Country markets Johnson County as a place with wide open spaces, outdoor attractions like an apple orchard and a winery, and spacious and fun downtowns.
There are lots of activities for employees, students and others especially in the fall, Kosky said, including an abundance of festivals and events. "People enjoy live music and wine-tasting at Mallow Run Winery and can take in music, explore corn mazes and enjoy mini-train rides and other activities at several of the outdoor attractions."
"Visiting all that Johnson County has to offer is a fall tradition for company outings and family gatherings alike as people enjoy leisure time together outdoors," Kosky noted. "We've observed that the staycation is popular as ever for families arriving here within a two- to six-hour radius."
And the attractions aren't just for visitors to Johnson County, Kosky pointed out. "Since we opened the Visitors' Center with multiple attractions along with a robust website, we've found more and more local residents are enjoying life in their own 'backyard.' They use us as a resource to find out about everything that's going on."
While Festival Country takes appropriate Covid-related health and safety precautions, it goes one step further by offering a wide variety of activities at many venues that are outdoors and involve small groups, with plenty of room for social distancing.
Visit the Festival Country website for a listing of fall festivals and events along with Festival Country's Top Ten webpage showcasing lists of what locals love and what visitors have raved about.