Johnson County: Planning Helped Tourism Fare Better than Other Counties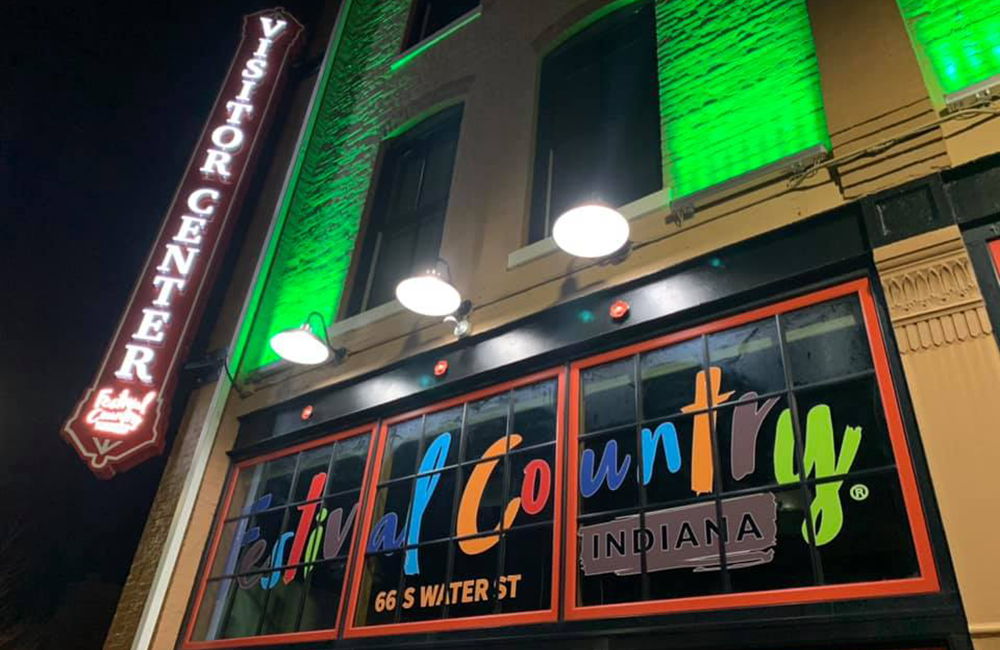 A combination of good planning and a positive approach helped Johnson County's tourism industry fare better during the pandemic in 2020 than many other Hoosier counties. Festival Country, Indiana – the county's tourism brand so named for the hundreds of festivals and concerts held annually – reported a decline of only 8-15% in hotel and bed-and-breakfast revenue last year compared to 25-50% in much of Indiana.
"There's no doubt that the tourism industry was drastically impacted in 2020 across the country," observed Aspire President and CEO Christian Maslowski. "Johnson County was also impacted but managed better than other communities." Festival Country shares its offices with Aspire's Franklin office, providing space for meetings with prospective businesses. At a time when companies increasingly are evaluating communities in terms of quality of life, Maslowski noted, Aspire is pleased to partner with a successful tourism agency that can tell that story. He added that embracing enhanced livability and quality of life is one of the goals in Johnson County's Economic Development Strategic Plan.
Tourism is big business in Johnson County, Kosky noted, where the economic impact of tourism was $255 million in spending, generating $60.2 million in tax revenues, resulting in $183.2 million in tourist spending, and creating nearly 2,921 jobs and $50.2 million in wages. This is according to an economic impact study provided by Festival Country and conducted in 2018. "I would expect that, aside from the 2020 pandemic year, the economic impact of tourism would grow each year, so we expect tourism to have an even greater economic impact going forward than it did in 2018," Kosky said.
Exactly how did Johnson County avoid the fate of so many other places in the state? "We budgeted for the possibility of a crisis," explained Festival Country Executive Director Ken Kosky, "so we had the funding to continue advertising throughout the season." He noted that it was the largest advertising campaign ever, starting in April 2020 and running nonstop through the fall on digital, billboard, print and other platforms.
Messaging was important too, he added. "While others focused on sanitation and safety, we conveyed an image of Johnson County as a place to enjoy a variety of activities at many outdoor venues. We promoted our spacious downtown, winery lawns and apple orchards. The unspoken message was that these places could be safely enjoyed because they were outdoors with plenty of room for social distancing."
"We found that people wanted to get out and enjoy themselves while staying safe, so we showed them how to do it." Kosky added that while many events were canceled, Festival Country offered activities that could be enjoyed outdoors and in small groups, such as "Chalk the Block" and walking tours. "We took the lead in creating outdoor experiences for people," he said.
Visitors to Johnson County also found indoor attractions when the brand-new Festival Country Visitor Center opened its doors last June amid the pandemic, albeit three months later than planned due to the governor's safety mandate. The downtown center features a working photo booth to create souvenirs, a DJ booth, a slide touting the trio of water parks in the county, an 11-foot apple signaling the Apple Works orchard and farmers markets and, of course, a smaller replica of the Historic Artcraft Theater showing a video about the county. The center was made COVID-safe with the installation of plexiglass barriers, hand-sanitizer stations, and a fogger to sanitize the larger exhibits.
Johnson County lost very few tourism-related businesses in 2020, Kosky noted, referring to attractions, retail stores, restaurants, hotels, and other small businesses. "This is something that we are very proud of. Many of these businesses set revenue records in 2020. We sympathize with those whose businesses closed," he said, "but overall, small businesses in Johnson County weathered the pandemic pretty well."
"We will continue to be aggressive in 2021 as we partner with others to build new attractions to start new festivals and events," Kosky said.
Just to the north of Johnson County, Visit Indy reported that the capital city fared better than many of its peers nationwide. "Our tourism business was hit hard," said Communications Manager Nate Swick, "but sports were our saving industry. The NCAA was a breath of fresh air," an event that some businesses reopened to serve. "Now we see restaurants popping up, and the '500' is just around the corner," Swick added. "We're gearing up for a good summer. We're optimistic, headed in the right direction."
"We work with Johnson and the other donut counties on tourism. When people are looking for the wide-open spaces, the donut counties come into play. Tourists come to Indy, then want to explore the adjacent donut counties. We see value in Johnson County and look forward to working with them."
Small businesses were hurt greatly by the pandemic, he said, and now there is national attention on them. "People are more cognizant of their spending. They know if they don't patronize small businesses, they may not always be there."
"We are grateful for the efforts and successes of these two tourism bureaus om navigating the effects of the pandemic," concluded Maslowski, "leaving their organizations and our communities in stronger positions moving into the future."