Newkirk Square to Provide Franklin Housing and Retail Opportunities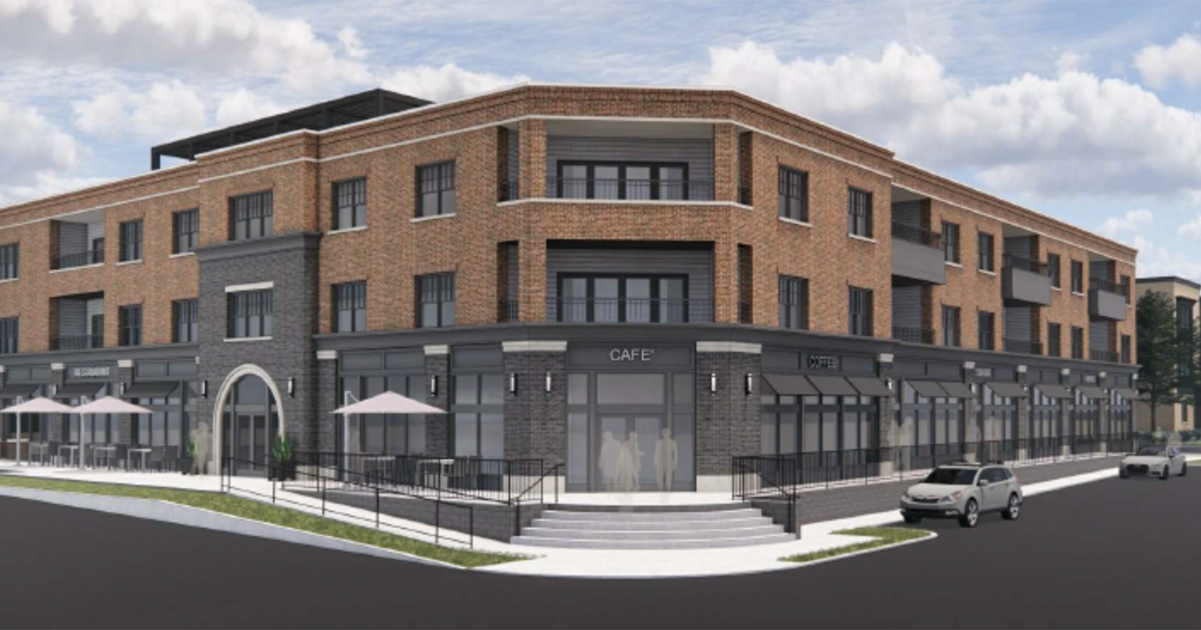 Construction of a three-story, $11 million mixed-use development in downtown Franklin at Wayne and Main streets is set to begin soon. Newkirk Square will offer 14 condos with underground parking and 11 townhomes with attached garages, all starting at $450,000. A total of 10,000 square feet of retail and restaurant space will be available for development on the ground floor. The Bemis Group development, scheduled to be completed by late 2023, will help Franklin meet the demand for upscale housing and spur investment.
The project will benefit businesses and the community alike, commented Aspire Vice President of Economic Development Amanda Rubadue, CEcD. "As the housing crisis continues, there is a need for all types of housing – multi-family, single-family, market rate, high-end, and such. More housing brings the workforce closer to Johnson County companies and jobs."
Rubadue added that the community benefits in multiple ways: "The trend of a walkable community has been continuing for years," she explained. "This type of development allows Franklin to add more homes and retail spaces to its downtown while preserving the historic and hometown feel."
Franklin Mayor Steve Barnett agreed wholeheartedly on both points. "We are very excited that the Bemis Group is developing Newkirk Square here in Franklin. What they are creating addresses many needs for our city. First, we all know there is a need for a variety of housing. In conversations with residents, there was a request for an upscale townhome-type option. These townhomes fit our downtown aesthetic and will provide a wonderful opportunity to be right in the middle of downtown living with access to restaurants, shops and the new amphitheater."
"Second, as a historic downtown, our retail space is somewhat limited. The ground floor of this three-story structure will be designed for retail. This provides us with more options for current and new businesses. It also gives us the opportunity to offer more shopping and dining choices for our residents," Barnett added. "We appreciate the Bemis Group and their thoughtful collaboration with Franklin to create these kinds of developments. For example, they offered up the name Newkirk Square because these townhomes will occupy the land that had been occupied by Newkirk's Auto Service, which was a vital business here for over 25 years. These types of things help us remember the history of our downtown."
Aspire President and CEO Christian Maslowski noted that the development dovetails with Aspire's efforts in the area of housing. "Aspire is continuing to explore ways to increase housing options for Johnson County's current workforce and the workforce we are working to attract," Maslowski explained. He added that one of the goals of Aspire's 5-year economic development strategy is to embrace and pursue opportunities for enhanced livability and quality of place. "We share Mayor Barnett's excitement about the Newkirk Square development and what it can mean for Franklin and Johnson County, and we stand ready to assist with this development in any way we can."
Bemis is no stranger to Johnson County. Its downtown Franklin projects include the Garment Factory Events, the Greek's Pizzaria and Tapp Room building and the Hazelet Building. In Greenwood, it developed Airport Parkway Plaza.